Doppelherz aktiv Vitamin C 1000
Glutenfree
Lactosefree
Vitamin C 1000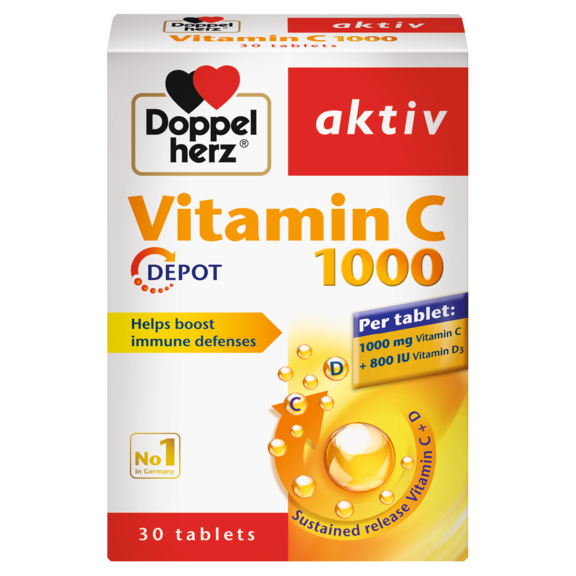 ---
Highly dosed with 1000 mg of Vitamin C
Plus 800 IU Vitamin D3
Vitamin C supports the normal function of the immune system
DEPOT tablet with sustained release
Glutenfree
Lactosefree
---
Doppelherz® Vitamin C 1000
The efficiency of our immune system largely depends on a continuous supply with specific micronutrients. 
Doppelherz® Vitamin C 1000 tablets supply the organism with 1000 mg Vitamin C combined with 800 IU Vitamin D3 to support a normal functionof the immune system.
Vitamin C contributes to efficient and fast-responding immune defenses. It also offers cells protection against oxidative stress, in particular to immune cells participating in the fight against pathogens.
Vitamin D also plays an important role in the function of the immune system. It is important to increase Vitamin D intakes especially in winter since the organism is not able to produce enough vitamin D on its own during times of lower solar irradiance.
Vitamin C and Vitamin D3 in Doppelherz® Vitamin C 1000 tablets are embedded in a time-release matrix: progressive dissolution of the tablet in the intestine over several hours, thanks to the DEPOT technology, improves absorption efficiency and utilization of the vitamins by the organism.
Composition
| Ingredients | per tablet |
| --- | --- |
| Vitamin C | 1000 mg |
| Vitamin D3 | 20 μg = 800 IU |
Consumption recommendation
Take 1 tablet daily at meal with enough liquid. Do not chew.
Note
Do not exceed the stated recommended daily dosage! Food supplements should not be used as a substitute for a varied diet.
The product should be stored out of the reach of children. 
Do not store above 25 °C.
Ingredients
L-ascorbic acid (Vitamin C), Hydroxypropyl methyl cellulose, Modified starch, Microcrystalline cellulose, Fatty acids, Cholecalciferol (Vitamin D3), Magnesium salts of fatty acids, Talc, Titanium dioxide, Hydroxypropyl cellulose, Coconut oil, Iron oxide.