Products

Doppelherz for animals Skin & Coat Oil Omega-3 for cats and dogs
No added sugar
No artificial colors
No preservatives
Skin & Coat Oil Omega-3 for cats and dogs
Rich, good tasting oil
Dietetic complementary feed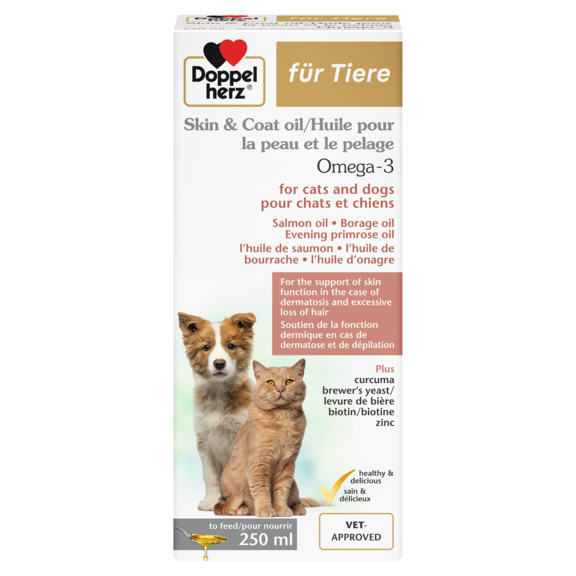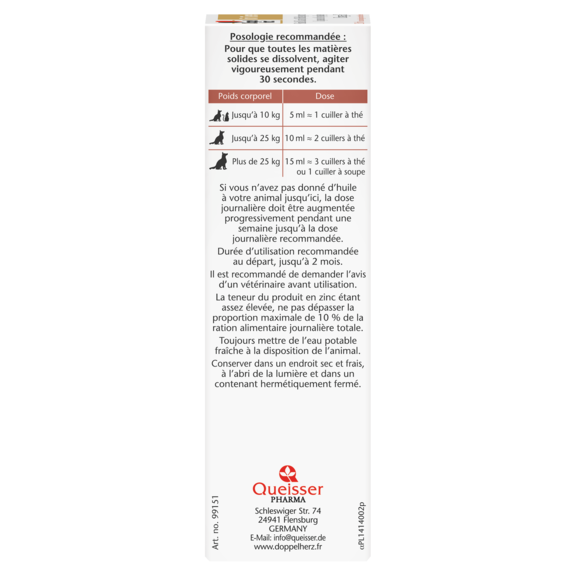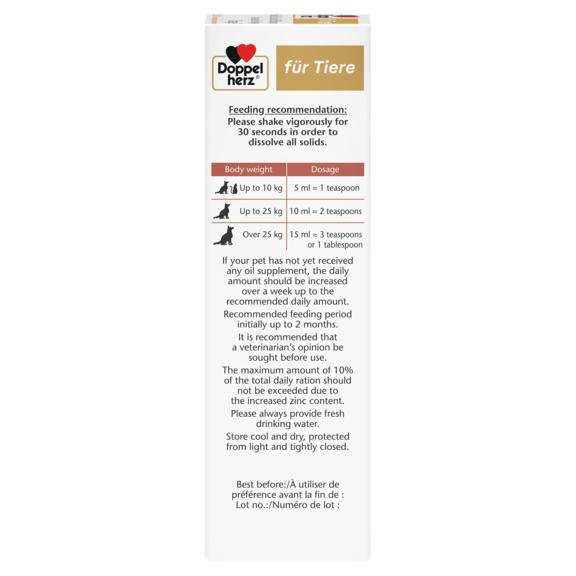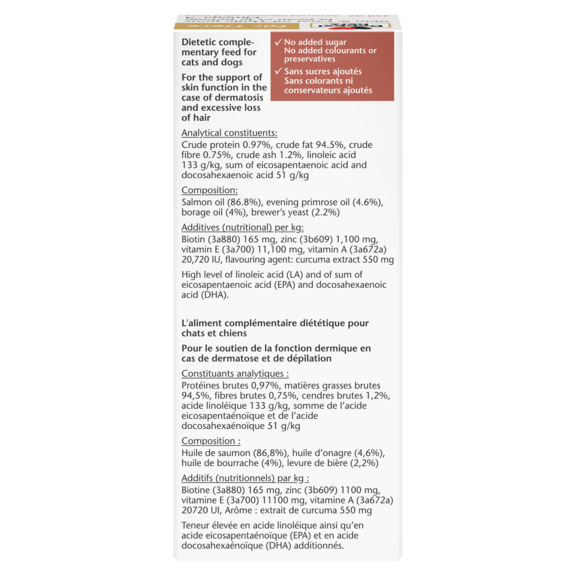 ---
For the support of skin function in the case of dermatosis and excessive loss of hair

Omega-3 and Omega-6 essential fatty acids

High quality oil blend with solids

With yeast, curcuma, biotin, zinc and vitamin E+A
No added sugar
No artificial colors
No preservatives
---
Supports skin diseases and hair loss in cats and dogs
While cats have their very own - and very thorough - methods for grooming, dogs usually only become active when they feel acutely disturbed by something, e.g. parasites or irritated or sore skin areas.
Therefore, it is important to observe your cat or dog and check for signs of possible skin diseases (dermatoses). A good indicator is your pet's behaviour: if it frequently licks or bites itself on certain parts of the body, unusually severe hair loss there may also indicate a skin disease. It is true that both cats and dogs regularly undergo a natural coat change twice a year, during which the animal sheds a lot of hair. However, if your pet loses an unusually large amount of hair all year round, it is advisable to have it examined by a vet - because the causes of dermatoses can be manifold.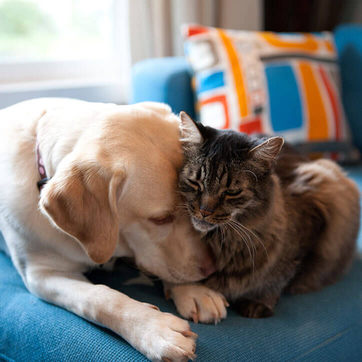 Nutrition is particularly important for skin and coat health: the food should supply your dog or cat with all the important nutrients. If the food does not provide the right nutrients, skin and coat problems can occur and visible changes can also occur. If skin or coat problems occur, the animal also needs higher amounts of the important nutrients, as the body needs to build up new healthy skin.
Doppelherz Skin & Coat Oil for cats and dogs provides many of these important nutrients in a special composition and sensible dosage. You can use this supplementary food both for daily care and as an adjunct to therapy for skin diseases. In this way you help your dog or cat to prevent dermatoses and excessive hair loss or to get them under control by supporting the natural process of regeneration and healthy skin functions.
Omega-3 and omega-6 are essential fatty acids. On the one hand, they support the membrane stability of the cells (and thus also the skin's defence against dermatoses), and they can also positively influence inflammatory processes.
Biotin and B vitamins are important metabolic helpers. The substances thus contribute to the health of the skin and coat. The brewer's yeast contained in Doppelherz Skin & Coat Oil is an additional natural supplier of biotin.
As trace elements, zinc and copper support the maintenance of healthy skin. In the case of already existing dermatoses, zinc can also contribute decisively to wound healing.
Vitamins E and A support the skin's natural power to regenerate itself and contribute to cell protection.
Is the Skin & Coat Oil something for my pet?
Doppelherz Skin & Coat Oil relies on a special combination of important nutrients from high-quality sources. A mixture of salmon oil, evening primrose oil and borage oil is combined with a high-quality solid component with yeast, curcuma, zinc and vitamins. It thus helps to maintain healthy skin and coat as well as to promote natural regeneration and healing processes in case of skin and coat problems.
Essential for healthy skin: Omega-3 + Omega-6
The omega-3 and omega-6 fatty acids contained in Doppelherz Skin & Coat Oil come from high-quality sources such as salmon oil, evening primrose oil and borage oil. Salmon oil contains large amounts of the omega-3 fatty acids EPA (eicosapentaenoic acid) and DHA (docosahexaenoic acid).
Borage oil is purely vegetable and provides the omega-6 fatty acid GLA (gamma-linolenic acid). A healthy and balanced ratio between omega-3 and omega-6 fatty acids is of great importance for the entire organism. Among other things, it strengthens the skin's defenses and supports the stability of cell membranes. Another advantage of omega-3 fatty acids is their positive influence on inflammatory processes.
Skin and coat benefit from biotin
Biotin is a coenzyme that supports cell growth and thus the regeneration of skin and hair. It is particularly important for the integrity of the skin, which is used in the synthesis of keratin, the basic substance for skin epithelia, hair and claws. This makes biotin one of the most important nutrients for preventing and treating excessive hair loss. Together with vitamins B1 + B2 + B6 + B12, it thus contributes significantly to healthy skin and a strong, shiny coat. Doppelherz Skin & Coat Oil for cats
and dogs also contains natural brewer's yeast, which provides biotin as well as many other nutrients.
Dietetic complementary feed for cats and dogs
For the support of skin function in the case of dermatosis and excessive loss of hair
Composition
Salmon oil (86.8 %), evening primrose oil (4.6 %), borage oil (4%), brewer's yeast (2.2 %)
Analytical constituents
Crude protein 0.97%, crude fat 94.5%, crude fibre 0.75%, crude ash 1.2%, linoleic acid 133 g/kg, sum of eicosapentaenoic acid and docosahexaenoic acid 51 g/kg
Additives (nutritional) per kg
Biotin (3a880) 165 mg, Zinc (3b609) 1100 mg, Vitamin E (3a700) 11100 mg, Vitamin A (3a672a) 20720
IU
Flavouring: Curcuma extract 550 mg
High content of linoleic acid (LA) and the sum of eicosapentaenoic acid (EPA) and docosahexaenoic acid (DHA).
Feeding recommendation
To dissolve all solids, please shake vigorously for 30 seconds.
| Body weight | Dosage |
| --- | --- |
| Dogs and cats up to 10 kg | 5 ml = 1 teaspoon |
| Dogs up to 25 kg | 10 ml = 2 teaspoons |
| Dogs over 25 kg | 15 ml = 3 teaspoons or 1 tablespoon |
If your animal has not received any oil supplement so far, the daily amount should be increased over one week up to the recommended daily amount.
Recommended feeding duration initially up to 2 months.
It is recommended to seek the advice of a veterinarian before use.
Store in a cool, dry place, protected from light and tightly closed.