Products

Doppelherz for animals Joint Oil Omega-3 for cats and dogs
No added sugar
No artificial colors
No preservatives
Joint Oil Omega-3 for cats and dogs
Rich, good tasting oil
Dietetic complementary feed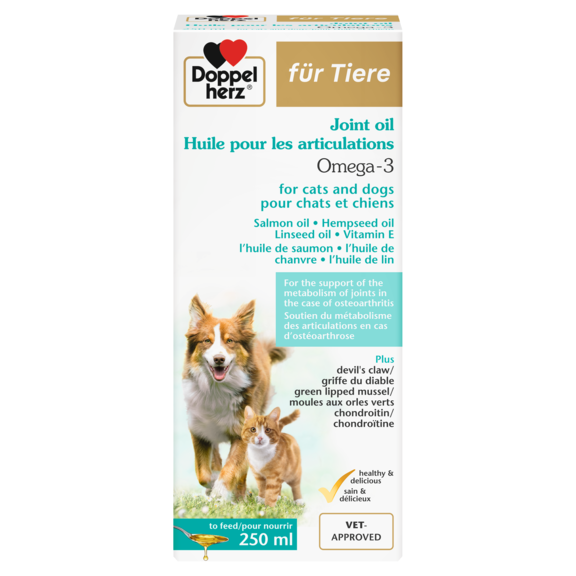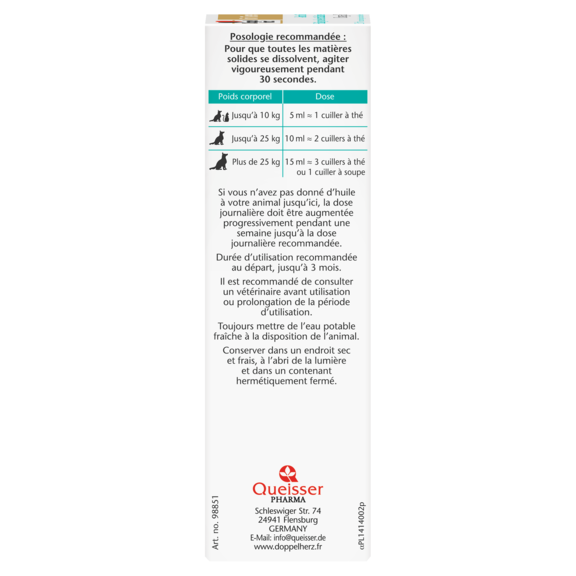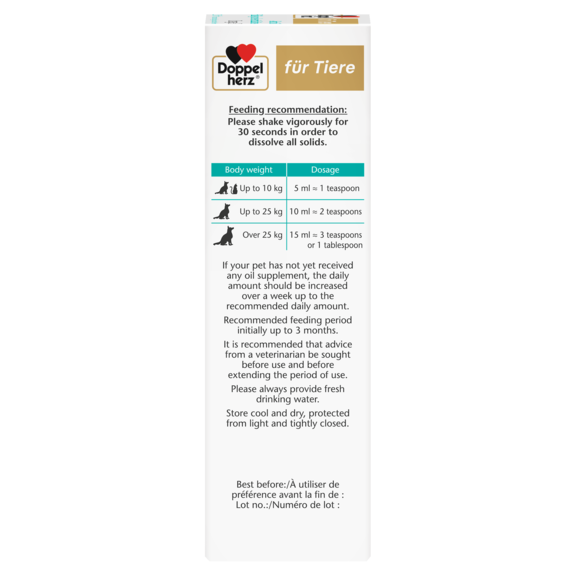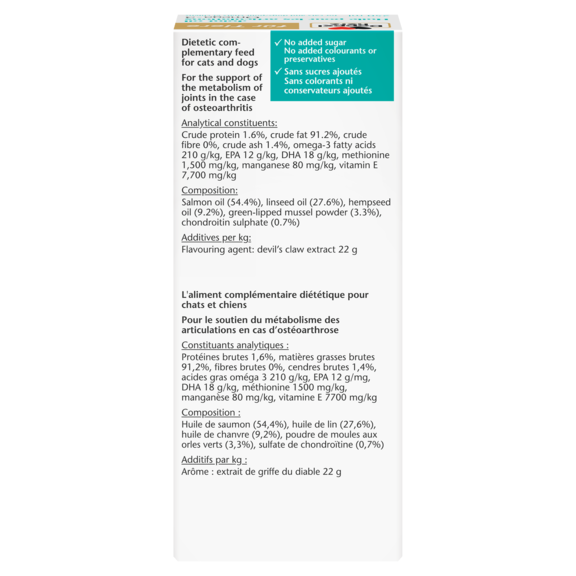 ---
Contains essential omega-3 fatty acids to support of the metabolism of joints in the case of osteoarthritis in cats and dogs

With natural green-lipped mussel power and devil's claw

Chondroitin is a natural building block of joint cartilage

High-quality oil mixture for feed supplementation
No added sugar
No artificial colors
No preservatives
---
Support for the joints of cats and dogs with osteoarthritis
Both cats and dogs are animals that by nature have an enormous urge to move. Every owner enjoys an active and healthy animal and wants to support its joy of movement throughout its life. However, joint problems can affect the quality of life because of the pain.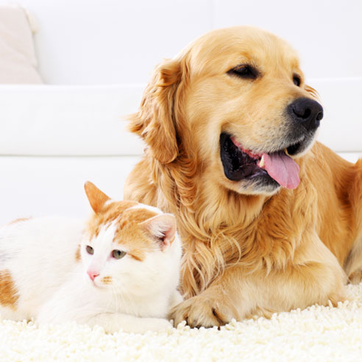 Lack of movement of the affected joints also aggravates the problem. Joint diseases are often caused by injuries or age-related wear and tear.
Typical osteoarthritis is a chronic joint disease that causes inflammation and rogressive loss of healthy joint cartilage. A sensible supplementation of the diet with special nutrients can support joint diseases such as osteoarthritis.
Doppelherz Joint Oil for cats and dogs combines high-quality oils with high doses of solids to support joint metabolism:
Salmon oil provides the two valuable omega-3 fatty acids EPA (eicosapentaenoic acid) and DHA (docosahexaenoic acid). These essential fatty acids can support joint metabolism by helping to regulate inflammatory processes.
Green-lipped mussel power contains glycosaminoglycans (GAG) and other special omega-3 fatty acids that can support the musculoskeletal system in joint diseases.
Vitamin E and manganese are important antioxidants. Together with the amino acid methionine, they support joint metabolism in dogs and cats with osteoarthritis.
Chondroitin is a substance produced naturally in the body and is an essential component of cartilage tissue. It helps to keep the joint surfaces smooth and elastic.
Valuable oil blend
Doppelherz Joint Oil for Cats and Dogs provides a physiologically sound combination of nutrients that is easy to use for both cats and dogs. As a veterinarian-developed dietetic complementary feed, it contains specific dosages of high-quality active ingredients. We therefore advise giving the oil in the recommended daily amounts to achieve targeted support for the joints.
Green-lipped mussel
The green-lipped mussel (Perna canaliculus) lives off the coasts of New Zealand. The indigenous people of the Maori traditionally use the mussel as a food, which according to scientific research has had a positive effect on the health of their joints. In our country, green-lipped mussel powder is therefore popular for the joints - both for humans and animals. The mussel meat contains glycosaminoglycans (GAG) as well as omega-3 fatty acids, which can support the joints.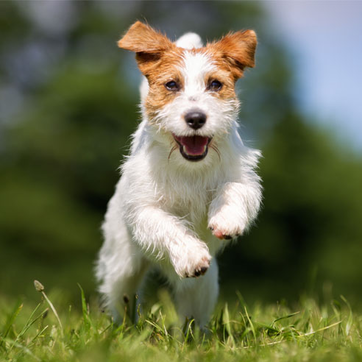 Support natural processes with chondroitin
A healthy body forms cartilage tissue on its own - and thus ensures smooth and elastic joint surfaces that enable normal movement. The body's own chondroitin is crucial for this process. A joint disease, e.g. osteoarthrosis, results in excessive wear and tear and degradation of the cartilage. The Doppelherz feed supplement provides chondroitin, an important building block of healthy joint cartilage.
Devil's claw: traditional medicine for the joints
Devil's claw is a plant that grows in the savannahs of southern Africa, where its fruits are used as a traditional food and remedy. However, the fruit has long been appreciated as a remedy in Central Europe as well. Its crushed and dried roots contain a whole range of secondary plant substances that are said to have a positive effect on joint problems.
Dietetic complementary feed for cats and dogs
To support of the metabolism of joints in the case of osteoarthritis 
Composition
Salmon oil (54.4 %), linseed oil (27.6 %), hemp seed oil (9.2 %), green-lipped mussel powder (3.3 %), chondroitin sulphate (0.7 %).
Analytical constituents
Crude protein 1.6 %, crude fat 91.2 %, crude fibre 0 %, crude ash 1.4 %, omega-3 fatty acids: 210 g/kg, EPA 12 g/kg, DHA 18 g/kg, methionine 1500 mg/kg, manganese 80 mg/kg, vitamin E 7700 mg/kg
Additives (nutritional) per kg
Flavouring: Devil's claw extract 22 g
Feeding recommendation
To dissolve all solids, please shake vigorously for 30 seconds.
| Body weight | Dosage |
| --- | --- |
| Dogs and cats up to 10 kg | 5 ml = 1 teaspoon |
| Dogs up to 25 kg | 10 ml = 2 teaspoons |
| Dogs over 25 kg | 15 ml = 3 teaspoons or 1 tablespoon |
If your animal has not received any oil supplement so far, the daily amount should be increased over one week up to the recommended daily amount.
Recommended feeding duration initially up to 3 months.
It is recommended to seek the advice of a veterinarian before using or extending the feeding period.
Store in a cool, dry place, protected from light and tightly closed.