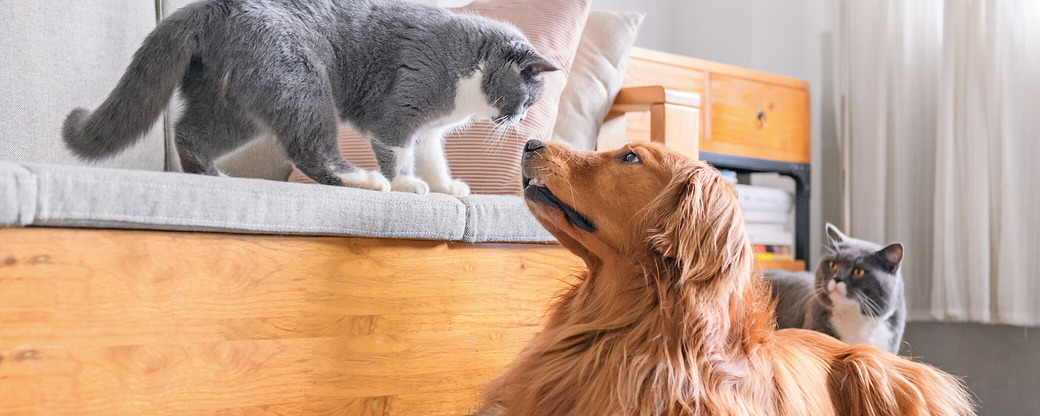 Dietetic complementary feed for dogs and cats
It is not easy to navigate through the different types of food for dogs and cats. A visit to a well-stocked pet shop can sometimes be more confusing than helpful when it comes to making a decision. However, it is important for every owner to feed their pet the food that contains all the important ingredients to enable the animal to live a healthy and long life full of vitality. Because there are great differences in quality and composition, here is an overview for you:
The typical staple diet of dogs and cats is called complete feed. This term stands for all compound feeds which, due to their composition, are sufficient for the daily ration when fed exclusively - whether wet or dry food. However, there are great differences in quality. You should therefore always inform yourself about the quality and origin of the ingredients before you put the feed in your shopping trolley. You can also have an expert check whether a feed is optimally composed for your animal in a ration calculation.
Single feeds, on the other hand, are only individual, pure components such as carrots, rice or meat. Dried chews such as beef skin bones or dried fish also fall under this category. In other words, all individual feedstuffs that have not been combined with minerals or other components.
Then there are supplementary feeds that have a high content of certain substances, but due to their composition are only sufficient for the daily ration together with other feeds. This term includes, for example, mineral feeds, reward articles or supplements for special indications.
And last but not least, we talk about dietetic complementary feed that serve a special nutritional purpose. Here, the word "diet" has nothing to do with the fact that your pet should lose weight. The basis for the development of these feeds is the scientific and medical theory of nutrition, dietetics. Thus it stands for higher demands on the composition, so that these feeds can fulfil a therapy-accompanying effect in the treatment of diseases. The composition of dietetic feeds is specially adapted to the needs of dogs and cats in cases of malnutrition and disease. However, they can also be given prophylactically or to support temporary health complaints.
On many packages you find in supermarkets or drugstores you can read flowery statements about what the food is good for. However, effectiveness is only legally proven for dietetic foods. For these, particularly strict requirements apply as far as composition and declaration are concerned. On every package you will find all the important ingredients and their exact content. This way, if necessary, the vet can quickly get an overview of which active ingredients the animal is already taking and adjust its medication accordingly.
Many animals are confronted with different health complaints in the course of their lives. Dull fur or hair loss, joint problems with limited mobility or problems with the immune system. All these problems can cause four-legged friends to lose some of their quality of life. So it is good that a special nutrient supply can alleviate many complaints and, in the best case, even curb the course of the diseases.
In special life situations, your pet may have an increased need for nutrients. For this, there are suitable high-quality dietetic complementary feeds with which you can combine and optimise the daily diet with individual products.