Products

Doppelherz for animals Skin & Coat Complex for dogs
Grain free
No artificial flavors
Skin & Coat Complex for dogs
Delicious and healthy Chews
Dietetic complementary feed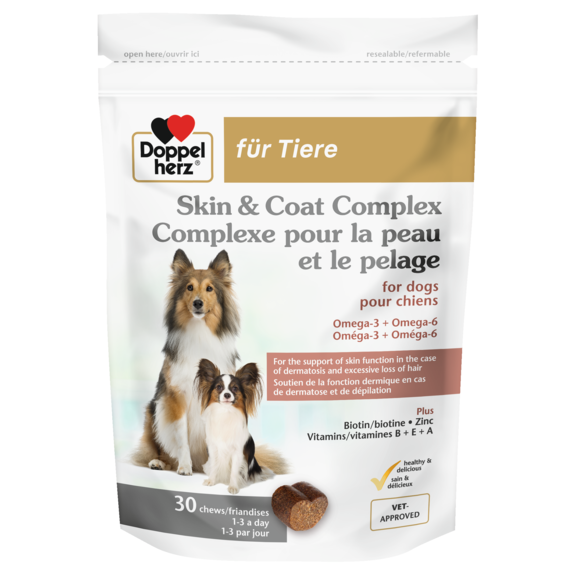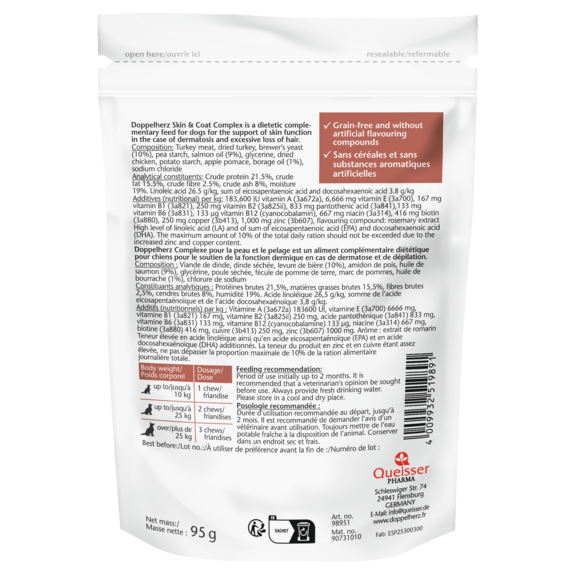 ---
For the support of skin function in the case of dermatosis and excessive loss of hair

Contains important omega-3 and omega-6 fatty acids

Plus brewer's yeast, zinc, biotin and copper as well as vitamins B, E and A

Supplementary feed as tasty chews
Grain free
No artificial flavors
---
For the skin function of dogs with dermatosis and excessive hair loss
The coat and the underlying skin are a true mirror of the dog's health. Changes are usually an indication of an underlying problem. During regular grooming, dog owners should therefore always visually check the condition of the skin and coat up close.
Skin diseases can be detected and treated earlier. In addition, it should be possible to distinguish the normal change of coat from excessive hair loss, as this can also be an indication of a deeper-lying disease.
Proper nutrition plays an important role in skin and coat health. Due to the constant renewal processes, important building blocks must be supplied through the diet. Especially the essential fatty acids (omega-3 and omega-6 fatty acids), zinc and vitamins A and E support the skin in its natural regeneration. Other nutrients such as B vitamins and biotin contribute to the optimal care of your four-legged companion's skin and coat.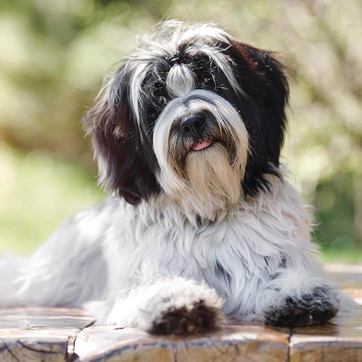 Especially in the case of skin diseases (generic term: dermatoses), a feed supplement can be useful and have a positive influence on the regeneration process. Doppelherz Skin & Coat Complex for dogs contains the important nutrients your dog needs when he is struggling with skin and coat problems - and also to support the maintenance of a shiny coat and healthy skin.
Omega-3 and omega-6 in high concentration as essential fatty acids promote the skin's defence and support membrane stability. They also counteract inflammatory processes.
Biotin and B vitamins promote metabolism and contribute to skin health. Brewer's yeast is a natural supplier of biotin and thus supports the optimal care of skin and coat.
Zinc and copper are indispensable trace elements for skin health. They are especially needed for wound healing and the skin's metabolism.
Vitamin E and A serve to protect the cells and support the natural regeneration of the skin.
Valuable and tasty feed supplement
Doppelherz Skin & Coat Complex for dogs provides a feed supplement with a special combination of nutrients to support the skin and coat in cases of dermatosis and excessive hair loss. Likewise, it helps healthy dogs maintain normal skin and coat functions.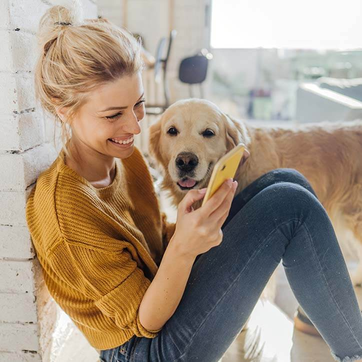 Are the Skin & Coat Chews right for my dog?
Doppelherz Skin & Coat Complex Chews not only combine many valuable nutrients - they also taste really good and are easy to administer. With a high fresh meat content, the tasty Chews are also free from cereals, preservatives and artificial flavours. Developed by a vet, sensibly dosed and easy to administer, the Chews are suitable for every dog - regardless of breed, size and body weight. Your dog will also love the natural taste
High-quality oils - essential fatty acids
With salmon oil and borage oil, Doppelherz Skin &. Coat Complex offers two sources of high-quality omega-3 and omega -6 fatty acids to support the membrane stability and integrity of the skin. The omega-3 fatty acids DHA (docosahexaenoic acid) and EPA (eicosapentaenoic acid) contained in salmon oil and the omega-6 fatty acid GLA (gamma-linolenic acid) from the vegetable borage oil can support inflammatory processes and thus offer active support for skin problems.
Biotin + B-vitamins
Biotin is considered the "skin and hair vitamin". Strictly speaking, biotin is an enzyme component, i.e a coenzyme. As in humans, it is also involved in cell growth in animals. It also activates the metabolism and promotes the formation of new hair roots. To prevent and counteract hair loss caused by skin diseases (dermatoses), biotin is an important component of an effective feed supplement for your dog. The high proportion of brewer's yeast in Skin & Coat Complex Chews also contains biotin and other B-vitamins (B1 + B2 + B6 + B12), which can make an important contribution to maintaining healthy skin.
Dietetic complementary feed for dogs
For the support of skin function in the case of dermatosis and excessive loss of hair
Composition
Turkey meat, turkey dried, brewer's yeast (10 %), pea starch, salmon oil (9 %), glycerine, chicken dried, potato starch, apple pomace, borage oil (1 %), sodium chloride.
Analytical constituents
Crude protein 21.5 %, crude fat 15.5 %, crude fibre 2.5 %, crude ash 8 %, moisture 19 %. Linoleic acid 26.5 g/kg, sum of eicosapentaenoic acid and docosahexaenoic acid 3.8 g/kg
Additives (nutritional) per kg
183600 IU vitamin A (3a672a), 6666 mg vitamin E (3a700), 167 mg vitamin B1 (3821), 250 mg vitamin B2 (3a825ii), 833 mg pantothenic acid (3a841), 133 mg vitamin B6 (3a831), 133 ug vitamin B12 (cyanocobalamin), 667 mg niacin (3314), 416 mg biotin (3a880), 250 mg copper (3b413), 1000
mg zinc (3b607)
Flavouring: Rosemary extract
High content of linoleic acid (LA) and the sum of eicosapentaenoic acid (EPA) and docosahexaenoic
acid (DHA).
Feeding recommendation
| Body weight | Dosage |
| --- | --- |
| Dogs up to 10 kg | 1 Chew |
| Dogs up to 25 kg | 2 Chew |
| Dogs over 25 kg | 3 Chew |
Feeding duration up to 2 months.
It is recommended to seek the advice of a veterinarian before use.
Please store in a cool and dry place.
The maximum amount of 10% of the total daily ration should not be exceeded due to the increased zinc and copper content.