Products

Doppelherz for animals Joint Complex for cats
No artificial flavors
No artificial colors
No added sugar
Joint Complex for cats
Creamy licks in a sachet
Dietetic complementary feed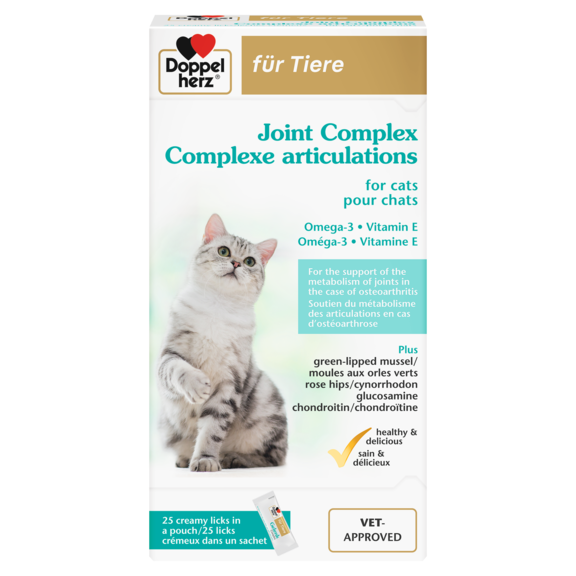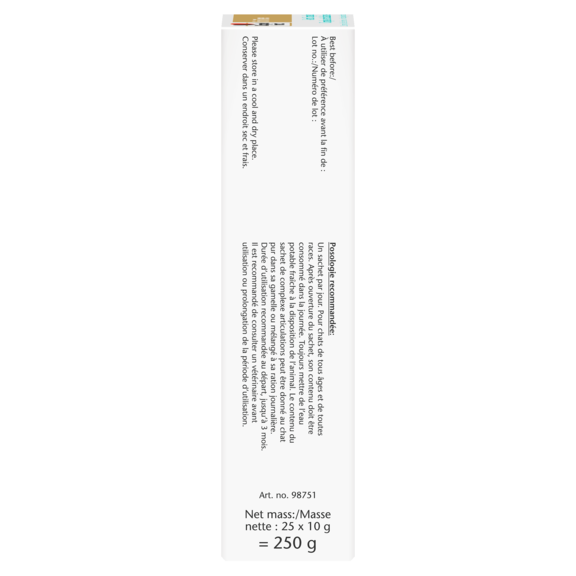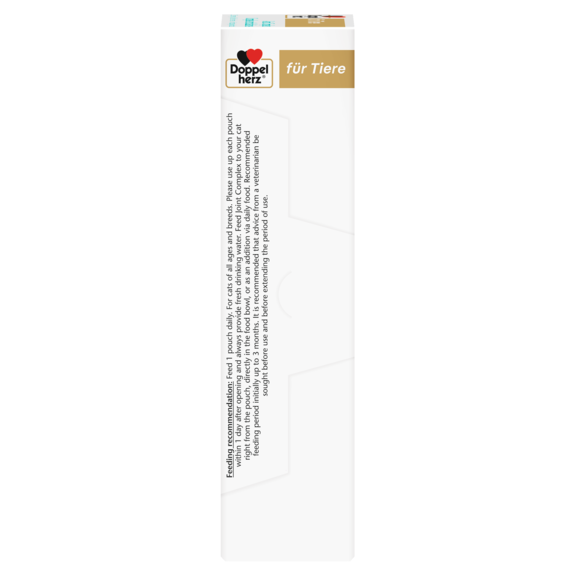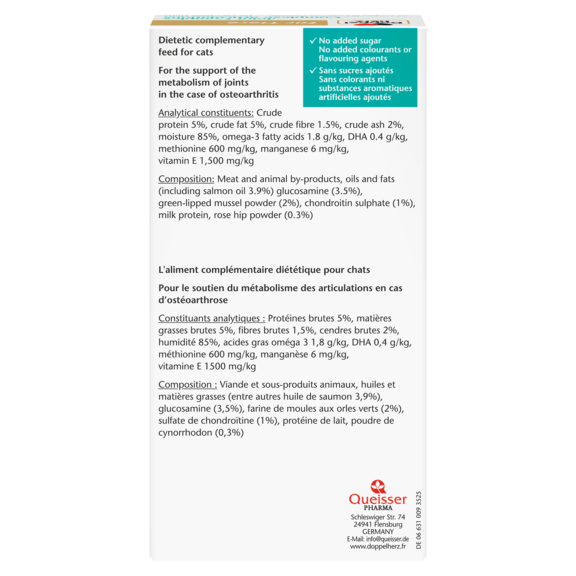 ---
To support of the metabolism of joints in the case of osteoarthritis

With omega-3 fatty acids, vitamin E, green-lipped mussel, rosehip, glucosamine + chondroitin

Only 1 creamy lick daily

Supplementary feed in palatable form as ChewNo added sugar and free from colourings and flavourings

Healthy and tasty: Recipe tested by veterinarians!
No artificial flavors
No artificial colors
No added sugar
---
To support the joints of cats with osteoarthritis
Cats are known for their supple movements. Every cat owner enjoys an active and healthy animal and wants to support its joy of movement throughout its life. Joint problems can therefore affect the quality of life due to the pain in cats.
Lack of movement of the affected joints also aggravates the problem. Joint diseases are often caused by injuries or age-related wear and tear.
Typical osteoarthritis is a chronic joint disease that involves inflammation and progressive loss of healthy joint cartilage.
A sensible supplementation of the diet with special nutrients can support joint diseases such as osteoarthritis. Doppelherz Joint Complex Licks for cats contain valuable essential fatty acids from salmon oil, green-lipped mussel, chondroitin and glucosamine, rosehip as well as vitamin E, methionine and manganese.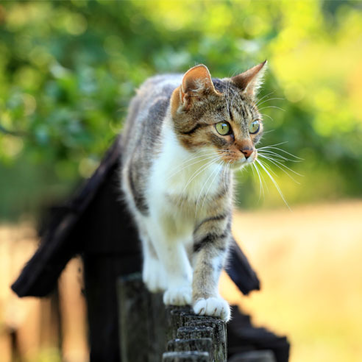 Salmon oil is a high-quality supplier of valuable omega-3 fatty acids. It contains the essential fatty acids EPA (eicosapentaenoic acid) and DHA (docosahexaenoic acid) in particularly high concentrations - they help to counteract inflammatory processes in joint diseases.
Green-lipped mussel power supports with GAG (glycosaminoglycans) and special omega-3 fatty acids.
The 100 % natural rosehip contains the antioxidants beta-carotene, vitamin E as well as vitamin C, which contributes to collagen formation and thus supports the joints.
The antioxidants vitamin E and manganese as well as the amino acid methionine support the joint metabolism in cats with osteoarthritis.
Glucosamine and chondroitin are the body's own building blocks of cartilage tissue. They promote the maintenance of healthy and elastic joint surfaces.
Feed supplementation for cats made easy
Cumbersome feed supplements were yesterday. Instead of adding strange tasting additives to the daily food, Doppelherz Joint Complex for Cats Licks combine a sensible combination of nutrients with the ease of a snack. This makes the intake of important nutrients attractive for your pet too.
Nevertheless, the tasty licks are not treats for in between. Doppelherz Joint Complex for cats is a physiologically sensibly composed dietetic complementary feed developed by a veterinarian. The targeted dosage of the high-quality active ingredients contained is chosen so that they are administered in recommended quantities. In this way, specific support for the joints is achieved, with the advantage of easy and tasty administration.
Green-lipped mussel
The green-lipped mussel (Perna canaliculus) from the coasts of New Zealand was already used centuries ago by the Maori as a food source. Scientific studies revealed a connection between the consumption of the mussel and the very good joint health of this indigenous people. Today, green-lipped mussel powder is also successfully used for animals: In addition to important glycosaminoglycans (GAG), the meat of the green-lipped mussel also contains omega-3 fatty acids and thus provides important substances for supporting the joints.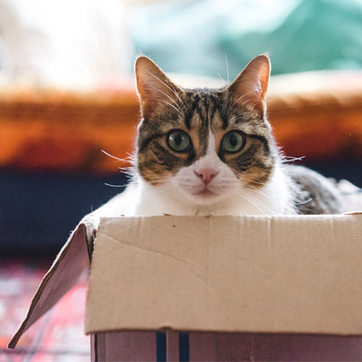 The body's own joint building blocks: glucosamine and chondroitin
As building blocks of healthy articular cartilage, glucosamine and chondroitin ensure, quite literally, smooth joint function. Joint problems can lead to changes in cartilage composition or cartilage damage. The body therefore needs these building blocks to maintain and build up a functional cartilage layer.
Rosehip - naturally good for joints
The rosehip is a widespread fruit in Central Europe. Its pulp is valued as a traditional herbal remedy and food. Besides beta-carotene and vitamin E, rose hips also provide vitamin C, which contributes to collagen formation and thus supports the joints. All these ingredients also serve as antioxidants for cell protection.
Dietetic complementary feed for cats
To support of the metabolism of joints in the case of osteoarthritis.
Composition
Meat and animal by-products, oils and fats (including salmon oil 3.9 %), glucosamine (3.5 % green-lipped mussel meal (2 %), chondroitin sulphate (1 %), milk protein, rose hip powder (0.3 %).
Analytical constituents
Crude protein 5 %, crude fat 5 %, crude fibre 1.5 %, crude ash 2 %, moisture 85 %, omega-3 fatty acids 1.8 g/kg, DHA 0.4 g/kg, methionine 600 mg/kg, manganese 6 mg/kg, vitamin E 1500 mg/kg
Additives (nutritional) per kg
Vitamin E (3a700) 6000 mg, Manganese (3b503) 50 mg, Methionine (3c301) 1000 mg
Essential nutritional characteristics:
Minimum dry matter content of total omega-3 fatty acids 1.2% and docosahexaenoic acid (DHA)
0.28%. Increased methionine and manganese content. Adequate vitamin E content.
Feeding recommendation
Feed 1 sachet daily.
For cats of all ages and breeds. Please consume each sachet within 1 day of opening and always provide fresh drinking water. Feed Doppelherz Joint Complex to your cat directly from the sachet, pure in the bowl or as an addition to the daily food.
Recommended feeding duration initially up to 3 months. It is recommended to seek the advice of a veterinarian before using or extending the feeding duration.