Products

Doppelherz for animals Skin & Coat Complex for cats
No artificial flavors
No artificial colors
No added sugar
Skin & Coat Complex for cats
Creamy licks in a sachet
Dietetic complementary feed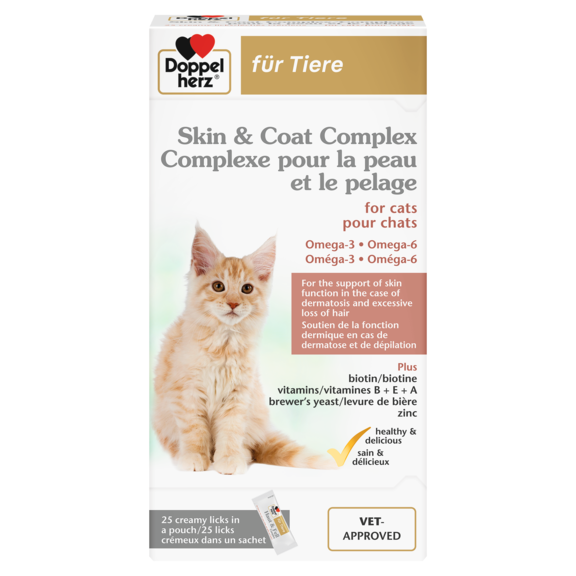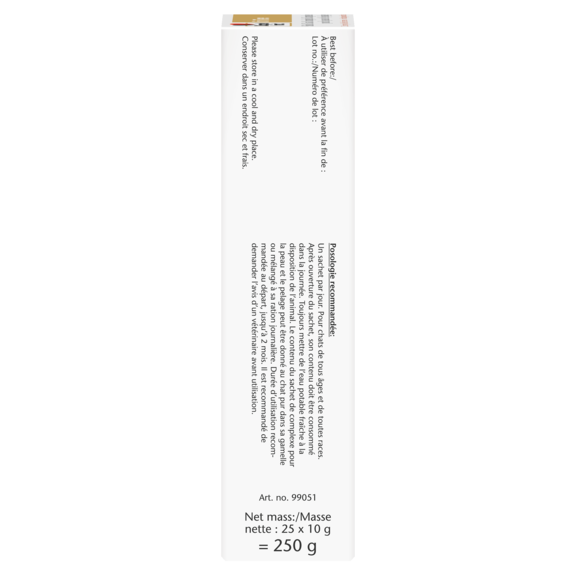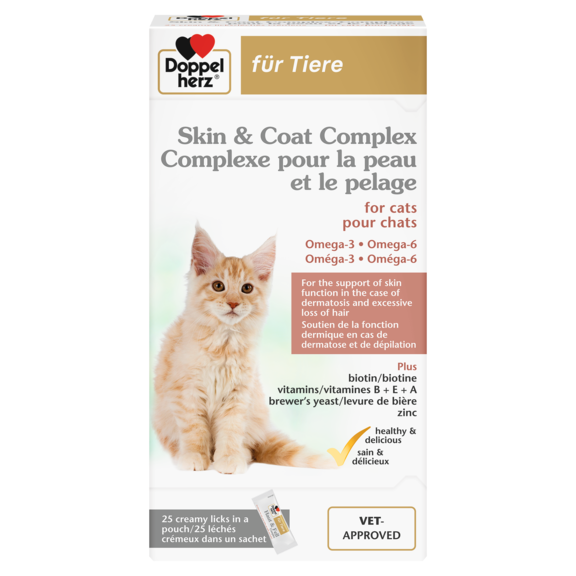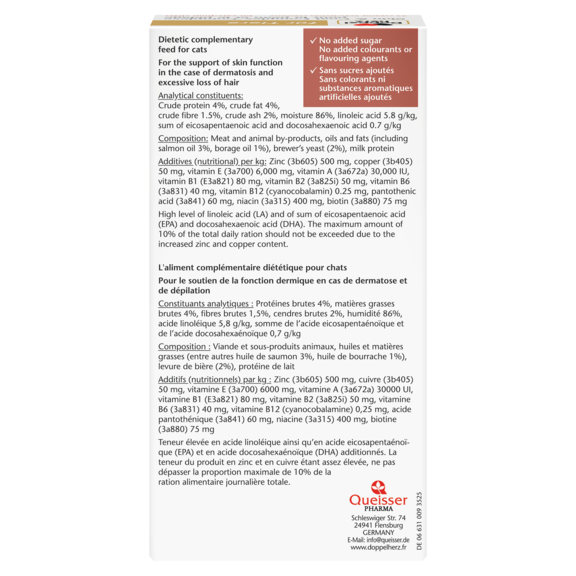 ---
For the support of skin function in the case of dermatosis and excessive loss of hair

Contains important omega-3 and omega-6 fatty acids

Brewer's yeast and zinc

With biotin and copper

Combined with vitamins B, E and A

Supplementary feed in palatable form as creamy licks
No artificial flavors
No artificial colors
No added sugar
---
Supports skin function in cats with excessive hair loss and dermatosis
In addition to the very individual behaviour typical of cats, the coat is an important indicator of health. With its extensive daily grooming, the cat already takes great care of its own skin health by cleaning even the densest fur down to the skin with its specially designed tongue.
Nevertheless, owners should also keep an eye on the condition of the skin and coat in order to recognise possible
changes promptly.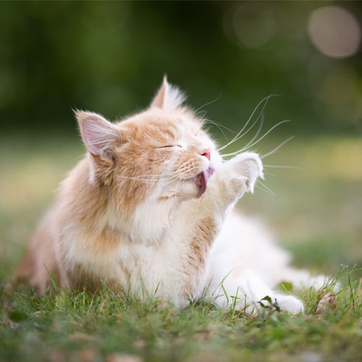 If, for example, you notice that your cat brushes itself particularly often on certain parts of its body or bites unusually much, this may indicate skin irritations or diseases that can have a massive impact on the animal's well-being and natural behaviour - if left untreated. Another sign is excessive hair loss. Of course, all cats shed hair regularly to renew their coat. The twice-yearly change of coat between winter and summer coat is perfectly normal and naturally involves some hair loss. However, if your cat loses an unusual amount of hair throughout the year, your vet should investigate.
Nutrition plays an important role in the health of the skin and coat. Care should be taken to ensure the highest possible quality of feed and, in the course of this, an optimal supply of the important nutrients. If a skin disease (dermatosis) has been diagnosed, you can support its therapy with a high-quality feed supplement.
Doppelherz Skin & Coat Complex for cats is full of important nutrients that support you and your cat in getting dermatoses and excessive hair loss under control by promoting the regeneration processes and functions of the skin.
Omega-3 and omega-6 are essential fatty acids that support the skin's defenses and membrane stability.
Biotin and B vitamins promote metabolism and contribute to skin health. Brewer's yeast is a natural supplier of biotin and thus supports the optimal care of skin and coat.
Zinc and copper are trace elements that are particularly important for healthy skin. Zinc also supports wound healing, including in dermatoses.
Vitamins E and A are responsible for the natural regeneration of the skin and cell protection.
Much more than a snack
We are sure: your cat will love the creamy consistency of Doppelherz Skin & Coat Complex Licks.
Nevertheless, this is much more than just a treat. The Licks offer a high-quality feed supplement with a sensible combination of nutrients for the support of skin function in the case of dermatosis and excessive loss of hair - combined with a practical and tasty delivery form that will convince even fussy cats.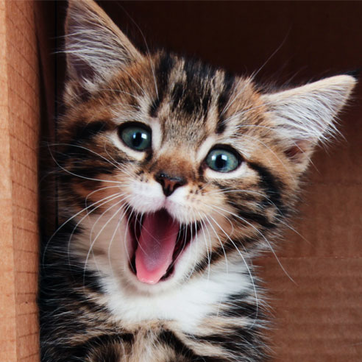 Does my cat need a supplementary food?
Doppelherz Skin & Coat Complex Licks offer a special combination of valuable ingredients that help your four-legged darling to promote natural regeneration in the case of skin and coat problems. If a dermatosis has been diagnosed by the vet, for example, a feed supplement with a physiologically sensible composition can provide support either on its own or as an adjunct to therapy, so that your cat can soon shine again with a healthy coat and feel completely at ease.
Perfect balance for the skin: Omega-3 + Omega-6
Doppelherz Skin & Coat Complex for cats contains essential omega-3 and omega-6 fatty acids. Salmon oil provides the omega-3 fatty acids DHA (docosahexaenoic acid) and EPA (eicosapentaenoic acid), while the vegetable borage oil contains the omega-6 fatty acid GLA (gamma-linolenic acid).
Only the right ratio of omega-3 to omega-6 effectively promotes the skin's defence and supports membrane stability. In addition, the fatty acids can contribute to an anti-inflammatory effect.
Biotin for skin and coat of cats
The coenzyme biotin supports cell growth and thus the regeneration of skin and hair. It is essential for the integrity of the skin and has an important role in the synthesis of keratin, the basic substance forskin epithelia, hair and claws.
These important properties of biotin make it one of the central nutrients for combating excessive hair loss and supporting the skin. Together with vitamins B1 + B2 + B6 + B12, it thus makes an essential contribution to maintaining healthy skin. Doppelherz Skin & Coat Complex Licks contain yeast, among other ingredients. What sounds like an inconspicuous ingredient actually contains a real treasure trove of nutrients: Yeast is a supplier of high-quality biotin and many other nutrients.
Dietetic complementary feed for cats
For the support of skin function in the case of dermatosis and excessive loss of hair
Composition
Meat and animal by-products, oils and fats (incl. salmon oil 3 %, borage oil 1%), brewer's yeast (2 %), milk protein
Analytical constituents
Crude protein 4 %, crude fat 4 %, crude fibre 1.5 %, crude ash 2 %, moisture 86 %, linoleic acid 5.8 g/kg, sum of eicosapentaenoic acid and docosahexaenoic acid 0.7 g/kg
Additives (nutritional) per kg
Zinc (3b605) 500 mg, Copper (3b405) 50 mg, Vitamin E (3a700) 6000 mg, Vitamin A (3a672a) 30.000 IU, vitamin B1 (E3a821) 80 mg, vitamin B2 (3a825i) 50 mg, vitamin B6 (3a831) 40 mg, vitamin B12 (cyanocobalamin) 0.25 mg, pantothenic acid (3a841) 60 mg, niacin (3a315) 400 mg, biotin (3880) 75
Mg
High content of linoleic acid (LA) and the sum of eicosapentaenoic acid (EPA) and docosahexaenoic acid (DHA).
Feeding recommendation
Feed 1 sachet daily. For cats of all ages and breeds.
Please consume each sachet within 1 day of opening and always provide fresh drinking water.
Feed Doppelherz Skin & Coat Complex to your cat directly from the sachet, pure in the bowl or as an addition to the daily food.
Recommended feeding duration up to 2 months. It is recommended to seek the advice of a veterinarian before use.
The maximum amount of 10% of the total daily ration should not be exceeded due to the increased zinc and copper content.