Doppelherz system VITAMIN D3 + K2
Glutenfree
Lactosefree
VITAMIN D3 + K2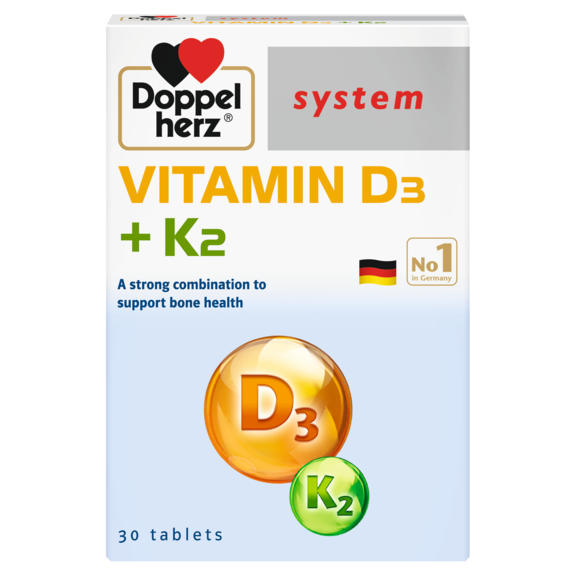 ---
A strong combination to support bone health
Providing 100 μg Vitamin K2 as well as 35 μg Vitamin D3 (1400 IU)
Food supplement
Glutenfree
Lactosefree
---
A strong combination to support bone health
Vitamin K has been known for more than 80 years for its role in blood coagulation.
Under this generic name are hidden several forms of Vitamin K originating from different food sources: Vitamin K1, also called phylloquinone, is mainly found in green vegetables like spinach, broccoli and kale. Vitamin K2 is represented by a group of molecules called menoquinones, primarily of microbial origin. This is the reason why fermented foods like cheese and natto, a Japanese traditional dish made of fermented soybeans, contain higher amounts of Vitamin K2.
In recent years, it appeared that the different Vitamin K forms also had different effects on health: while both Vitamin K1 and Vitamin K2 are involved in proper blood coagulation, Vitamin K2 has been assigned additional functions in maintenance of bone and cardiovascular health, notably by stimulating calcium deposition in the bone tissue and by preventing vascular calcification.
Vitamin K has been involved in other far-reaching functions and its intake is currently being discussed as a preventive strategy in maintaining health while aging.
In order to support bone health it is usually recommended to take supplemental calcium after a certain age. This intervention is more effective if Vitamin K2 and Vitamin D3 are co-administered.
Doppelherz® Vitamin D3+K2 provides 100 μg Vitamin K2 as well as 35 μg Vitamin D3 (1400 IU). This combination is useful to stimulate bone mineralization while maintaining normal circulating calcium levels, thereby reducing the risk of vascular calcification.
Our advice for healthy and strong bones: take daily one tablet Vitamin D3+K2 together with Calcium 500 from Doppelherz®.
Composition
| Ingredients | per tablet |
| --- | --- |
| Vitamin K2 | 100 μg |
| Vitamin D3 | 35 μg |
Consumption recommendation
Take 1 tablet daily at meal with enough liquid. Do not chew.
Note
Do not exceed the stated recommended daily dosage! Food supplements should not be used as a substitute for a varied diet. The product should be stored out of the reach of children. If you are on blood thinning medication, please ask your doctor before taking this product. Do not store above 25 °C.
Ingredients
100 μg Vitamin K2, 1400 IU Vitamin D3.