Lactosefree
Glutenfree
Vitamin D3 2000 IU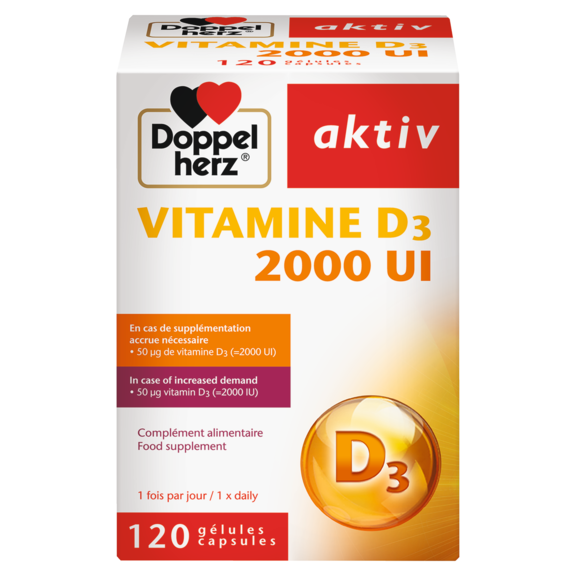 ---
Food supplement
In case of increased demand
50 μg vitamin D3 (=2000 IU)
Lactosefree
Glutenfree
---
Vitamin D - the "sunshine vitamin"
Recent research has shown that vitamin D has multiple functions for health. Nevertheless, many people ingest it in too small amounts with food.
Doppelherz® aktiv Vitamin D3 2000 IU capsules contain 50 μg vitamin D3. This corresponds to an amount of 2000 IU (international units) of vitamin D.
Vitamin D the "sun vitamin"
contributes to the normal utilization of calcium
helps maintain normal bones and teeth
contributes to the maintenance of normal muscle function
contributes to the process of cell division and normal functioning of the immune system
Already a single capsule of Doppelherz® aktiv Vitamin D3 2000 IU ensures, in conditions of high demand and lack of own production, an adequate intake of vitamin D, thus contributing to the health of the body and well-being.
Composition
| Ingredients | per capsule |
| --- | --- |
| Vitamin D | 50 µg |
Consumption recommendation
Take 1 capsule daily with a meal and some liquid, without chewing.
Note
Additional products containing vitamin D should not be taken without consulting a doctor. Please see package leaflet for more information.
Do not exceed the stated recommended daily dose. Food supplements should not be used as a substitute for a well-balanced, varied diet and a healthy lifestyle. Store out of the reach of young children. Not suitable for children, adolescents and pregnant women. Store in a dry place at a temperature below 25 °C.
Ingredients
Soybean oil, gelatine (bovine), humectant glycerol, cholecalciferol