Doppelherz aktiv Immuno Vital
Glutenfree
Lactosefree
Immuno Vital
DEPOT Time-release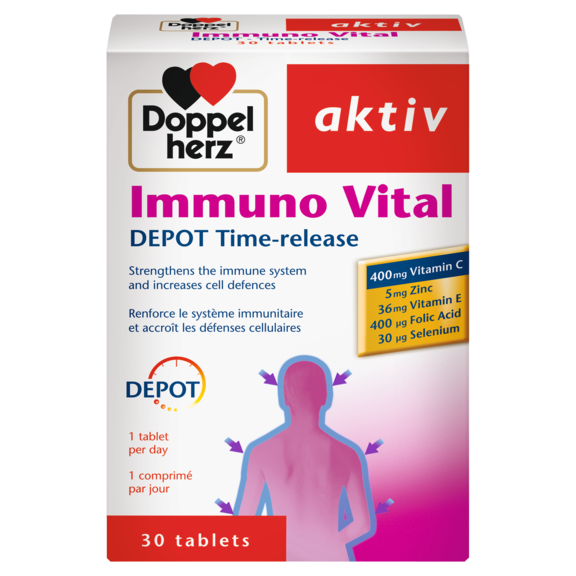 ---
High-strength antioxidant complex
To boost immune function and cell defenses
DEPOT time-release for a better assimilation
Glutenfree
Lactosefree
---
Strengthens the immune system and increases cell defences 
Our organs are equipped with a defense system known as the immune system, which role is to recognize, intercept and eradicate microorganisms that could represent a threat to our health.
The efficacy of this defense system is reduced by several factors like stress, pollution, lifestyle habits such as smoking and alcohol consumption. Nutrition also plays a role since proper function of the immune system partly relies on an adequate supply with specific micronutrients.

Doppelherz® aktiv Immuno Vital has been designed to keep the immune system at maximum efficiency even in times of physical or mental strain.

Doppelherz® aktiv Immuno Vital tablets supply the organism with Vitamin C and Zinc to help immune cells to disarm the attacking microorganisms, but also to speed up recovery and convalescence. High intakes of Vitamin C also contribute to reduce fatigue.

Vitamin E is a lipid-soluble antioxidant that inserts into cell membranes to help maintain their integrity and protect them from free radical assaults. This is fundamental for the proper function of all cellular
processes at the origin of the immune response.

Folic acid is required to sustain cell division activity in order to produce the large number of immunity cells required for a long-lasting immune response.

Selenium is used by specialized proteins which function is to neutralize toxins produced by certain pathogens.

A better assimilation rate through DEPOT time-release: the body can more efficiently assimilate low levels of micronutrients released over a long time than high levels released in a short time. Thanks to
their special coating, Doppelherz® aktiv Immuno Vital DEPOT tablets release micronutrients in a timely manner for a better assimilation rate.
Composition
| Ingredients | per tablet |
| --- | --- |
| Vitamin C | 400 mg |
| Zinc | 5 mg |
| Vitamin E | 36 mg |
| Folic acid | 400 µg |
| Selenium | 30 µg |
Consumption recommendation
Take 1 tablet daily at meal with enough liquid. Do not chew. Tablets can be divided into halves.
Note
Do not exceed the stated recommended daily dosage! Food supplements should not be used as a substitute for a varied diet.
The product should be stored out of the reach of children. 
Do not store above 25 °C. 
Ingredients
Ascorbic acid (Vitamin C), Anti-caking agent: Calcium phosphate, DL-alpha-Tocopheryl acetate (Vitamin E), Bulking agent: Cellulose, Thickener: Hydroxypropyl methyl cellulose and Starch, Zinc gluconate, Anti-caking agent: Fatty acids, Emulsifier: Hydroxypropyl methyl cellulose, Anti-caking agent: Talc and Magnesium salts of fatty acids, Sodium selenite, Anti-caking agent: Silica, Colour: Titanium dioxide, Glazing agent: Hydroxypropyl cellulose, Gelling agent: Coconut oil, Pteroylmonoglutamic acid (Folic acid)