Doppelherz aktiv Immuntive Lemon
Glutenfree
Lactosefree
Immuntive Lemon
with Vitamin C + Zinc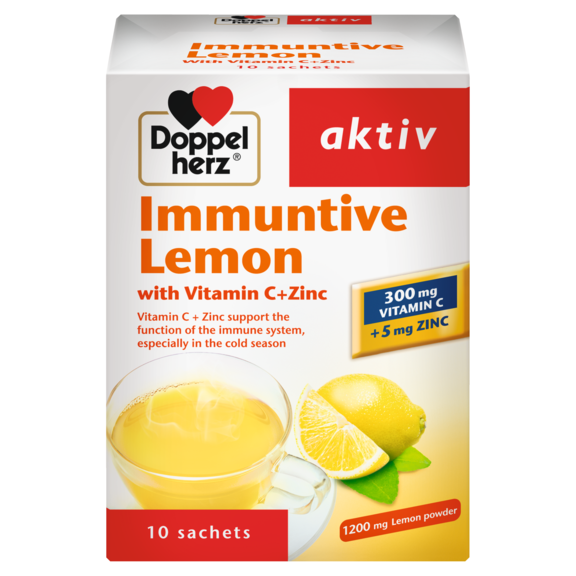 ---
Vitamin C and Zinc support function of the immune system
With healthy and tasty Lemon
Drink it hot in winter, cold in summer
Glutenfree
Lactosefree
---
Vitamin C and Zinc for the immune system
Day after day, season after season, our immune system defends our organism against pathogens. When we are stressed or tired our immune system is less efficient.
Easy to prepare and tasty, the Immuntive Lemon from Doppelherz® helps to support the immune system.
In wintertime, this hot drink fills the body with pleasant warmth. The instant powder is also well-adapted to prepare a cold refreshing drink.
One sachet contains 1200 mg Lemon powder, 300 mg Vitamin C and 5 mg Zinc.
Vitamin C and Zinc contribute to the function of the immune system. They are also required for cell defenses against oxidative stress.
Lemons are rich in flavonoids with antioxidant properties that are beneficial to the vascular system and the immune system.
Vitamin C and Zinc are essential nutrients which cannot be synthesized by the body. Therefore it is necessary to ingest them regularly in sufficient amounts in order to remain healthy.
Composition
| Ingredients | per sachet |
| --- | --- |
| Vitamin C | 300 mg |
| Zinc | 5 mg |
| lemon juice extract | 1200 mg |
Consumption recommendation
Take 1 sachet daily. Pour the content of the sachet in a cup, add 150 ml hot, but not boiling water, stir and drink.
Alternatively, use cold water to prepare a refreshing drink.
Note
Do not exceed the stated recommended daily dosage. Food supplements should not be used as a substitute for a varied diet.
The product should be stored out of the reach of children.
Store in a cool and dry place. Do not store above 25 °C.
Ingredients
Sugar, Dextrose, Maltodextrin, Citrus powder, Citric acid, Ascorbic acid (Vitamin C), Flavour, Vegetable oil, Zinc sulphate, Riboflavin-5-phosphate