Doppelherz aktiv Active Men Plus
Glutenfree
Lactosefree
Active Men Plus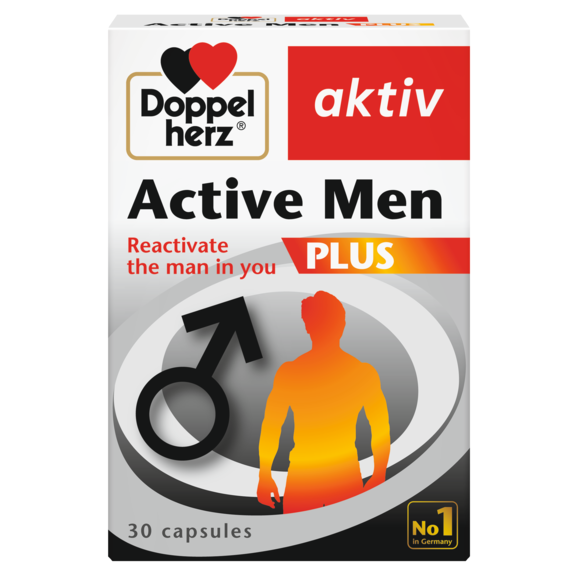 ---
Combines two herbal extracts - Maca and Ginseng
Food supplement
Once a day
Glutenfree
Lactosefree
---
Reactivate the man in you
Erectile dysfunctions a matter that affects many men of all ages.
If age and general health mostly contribute to the occurrence of erectile issues, stress and psychological factors may also be at the origin of dysfunctions at various degrees, in particular in younger men. In these cases, it is important to regain self-confidence in order to overcome these issues.
Natural solutions are well suited to help solve erectile issues on the long term. They act in a gentle and complementary way to improve peripheral blood circulation, well-being, self-confidence and ultimately pleasure.
Doppelherz• Active Men PLUS combines two herbal extracts, Maca and Ginseng, that are used traditionally to improve erection and stamina.
It contains additionally L-Arginine, a powerful source of nitric oxide that is an important vascular messenger that helps to initiate and maintain an erection. In combination with L-Arginine, the effect of Pine Bark extract on erection and pleasureis potentiated.
Doppelherz• Active Men PLUS contains in addition vitamins (B6, B12 and Folic acid) and trace elements (Zinc and Selenium) that contribute to normal spermatogenesis and to proper function of the male reproductive system.
Composition
| Ingredients | per capsule |
| --- | --- |
| L-Arginine | 250 mg |
| Maca extract | 250 mg |
| Ginseng root extract | 50 mg |
| Pine bark extract | 25 mg |
| Vitamin B6 | 0,8 mg |
| Folic acid | 100 μg |
| Vitamin B12 | 2,5 μg |
| Zinc | 5 mg |
| Selenium | 25 μg |
Consumption recommendation
Take 1 capsule daily at meal with enough liquid. Do not chew. Do not exceed the stated recommended daily dosage!
Note
Food supplements should not be used as a substitute for a varied diet. The product should be stored out of the reach of children.
Ingredients
250 mg L-arginine, 250 mg Maca extract, 50 mg Ginseng extract, 25 mg Pine Bark extract, 5 mg Zinc, 25 µg Selenium, 0.8 mg Vitamin B6, 100 µg Folic acid, 2.5 µg Vitamin B12