Hardly anything affects health more than nutrition does. But many people do not know that omega-3 fatty acids in particular play a major role in this regard, because: fish can help to improve our nutrition and our health.
Foods which are rich in omega-3 fatty acids include cold water fish such as salmon and tuna as well as shellfish. And it is precisely those omega-3 fatty acids which are vitally important and cannot be produced by the body itself. Omega-3 fatty acids of vegetable origin also exist, but the human body has only a very limited ability to transform them for its purposes.
What are Omega-3 fatty acids actually
Depending on the chemical structure, they can be classified as saturated, monounsaturated or polyunsaturated fatty acids, which exert different effects on the organism. The polyunsaturated omega-3 fatty acids are considered especially valuable and healthy in this regard – above all eicosapentaenoic acid (EPA) and docosahexaenoic acid (DHA). Also in humans they are an integral part of the membrane of all body cells – including those of the brain and the nervous system.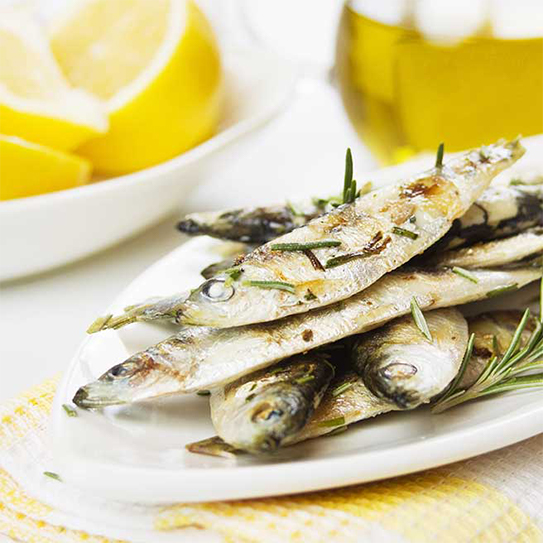 Mental fitness – Not a question of age!
The ability to concentrate and to learn is also affected by the quality of the nutrients we receive. In terms of nutrition physiology, a high proportion of DHA fatty acids on the daily menu is a sensible prerequisite for brain metabolism.
Nobody is ever too old to do something for their mental ability. "Brain jogging" helps exercise the grey cells – with crossword puzzles, for example.
But nutrition – and especially omega-3 fatty acids – can also help maintain normal brain function. To that end, the body needs at least 250 mg of DHA every day.
In fact, a sufficiently high proportion of DHA fatty acids on the daily menu is a prerequisite for normal brain metabolism.
Healthcare which goes right to the heart
Performance and well-being can be affected in large measure by our behaviour. For example, sufficient movement and healthy eating are key elements of a heart-healthy lifestyle.
Getting enough exercise, sleep and relaxation – it's the small things which gladden the heart. But proper nutrition is also important to the health of your heart. And in that respect, an adequate supply of omega-3 fatty acids also plays a decisive role. Because they make a valuable contribution to normal heart function.
One excellent source of omega-3 fatty acids is cold water fish, such as salmon, herring, etc. But it really takes 2 to 3 servings per week. A capsule of Doppelherz system OMEGA-3 KONZENTRAT contains 900 mg of sea fish oil with a 60% share of omega-3. That means even one capsule daily can help maintain normal heart function.
With every glance we instantly perceive distances, recognise objects, experience our environment, and distinguish between colours. Vision supplies us with about 80 percent of all of the information from our environment which we process in the brain.
Omega-3 fatty acids also play an important role in caring for the health of the eyes. That's why a daily supply of 250 mg DHA can have a positive influence on maintaining normal vision.
Nothing but the best for your baby – Right from the start!
How a child develops depends on many other factors, but one of them of course is also the nutrition of the mother. And that begins already during pregnancy.
It has been proven that providing the mother with an adequate supply of the omega-3 fatty acids DHA and EPA during pregnancy and lactation has direct benefits for the child.
Omega-3 fatty acids have a reputation for their positive effect on child development, especially in the last trimester of pregnancy and in the first few months of life.
Brain, nerve tissue and the eyes store particularly high concentrations of DHA during these stages of development. That's why it is recommended that pregnant women receive 200 mg of DHA daily.
Wer keinen Fisch isst, kann durch Nahrungsergänzungsmittel die Zufuhr an Omega-3-Fettsäuren erhöhen.
Qualitätsprodukte zeichnen sich durch einen standardisierten Gehalt an EPA und DHA aus und sind streng schadstoffkontrolliert, geruchs- und geschmacksneutral und gut verträglich.