Glutenfree
Lactosefree
THYMEPECT
for Kids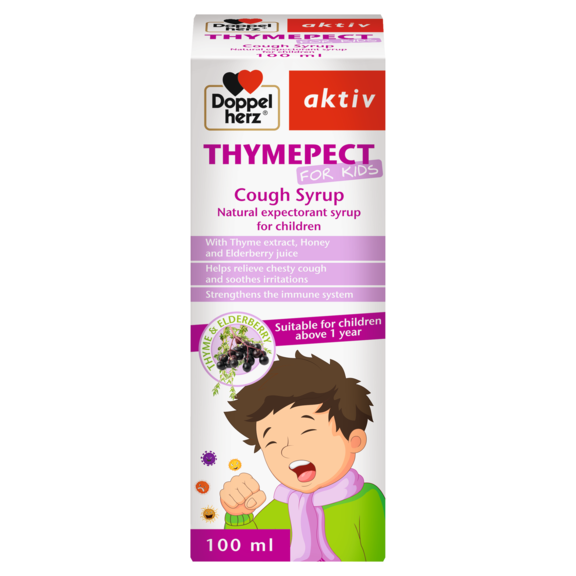 ---
Helps relieve chesty cough and soothes irritations
With Thyme extract, Honey and Elderberry juice
Strengthens the immune system
Glutenfree
Lactosefree
---
With Thyme extract, Honey and Elderberry Juice against chesty cough.
Doppelherz® aktiv Thymepect Cough Syrup is a combination of natural compounds that provide effective relief from chesty coughs in children.
Children are particularly sensitive to upper respiratory tract infections. When thick and sticky mucus obstructs the bronchi and prevents airflow in the lungs, a natural cough reflex is triggered to help clear the mucus from the airways, resulting in a "chesty" or "productive" cough.

A few natural and traditional remedies with expectorant properties have been used to help fluidify secretions and facilitate their evacuation from the airways. Among them, thyme has been shown to be both efficient and safe for children.

Doppelherz® aktiv Thymepect Cough Syrup contains Thyme that stimulates secretion of mucus and facilitates its elimination by coughing. In addition, Thymepect Cough Syrup contains Honey that has natural antibacterial properties and soothes sore throats, as well as Elderberry juice that strengthens function of the immune system and promotes a speedy recovery.
Consumption recommendation
Children 1–5 years: 3 times 2.5 ml
Children 6–12 years: 3 times 5 ml
Note
Do not exceed the stated recommended daily dosage.
This product should not be taken in case of known allergy against one of its constituents.
Consult your doctor or pharmacist if symptoms persist longer than 7 days.
Do not give to children under the age of 1. The product should be stored out of the reach of children.
Ingredients
Glucose syrup, Water, Honey, Thyme fluid extract, Elderberry juice concentrate, Citric acid, Potassium sorbate, Sodium benzoate