Doppelherz aktiv Nosocare
Nosocare
Nasal Spray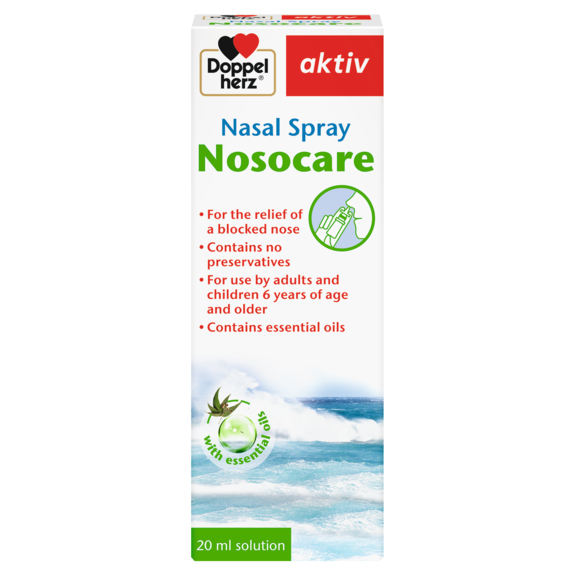 ---
For the relief of a blocked nose
Contains no preservatives
For use by adults and children 6 years of age and older
Contains essentials oils
---
The Doppelherz® Nosocare nasal spray can help to relieve a blocked nose. 
It is used to moisten the nasal mucous membrane, to cleanse the nasal cavity and as a supporting treatment for colds. The Doppelherz® Nosocare nasal spray contains eucalyptus oil and mint oil. Your nose will feel more free and comfortable and well-being is improved.  
Consumption recommendation
Suitable for daily use by adults and children 6 years of age and older. Adults and school-age children apply 2 sprays per nostril several times a day as required. If required, the nasal spray can be used until the symptoms subside. If no improvement has occured in the nasal symptoms after 7 days, you should consult your doctor or pharmacist. In case of known hypersensitivity or signs of a hypersensitivity to the nasal spray, you should stop using it.
Note
Keep out of the reach of children!
Do not store above 25°C. Store in a dry place and consume within 6 weeks. 
The Doppelherz®  Nosocare nasal spray contains no preservatives or alcohol. Do not use after the expiry date.
In the event of injuries to the nose and/or after operations of the nose, the nasal spray should only be used in accordance with medical advice.
Keep the bottle vertical when in use.
Wipe the spray head dry after use and replace the cap. For reasons of hygiene, the nasal spray should only be used by one person.
Ingredients
1 ml of solution contains 1 ml of isotonic seawater corresponding to a 0.9 % sodium chloride solution, eucalyptus oil, mint oil, gum arabic and citric acid.