Doppelherz system Collagen Max
Glutenfree
Lactosefree
Collagen Max
Joint health and mobility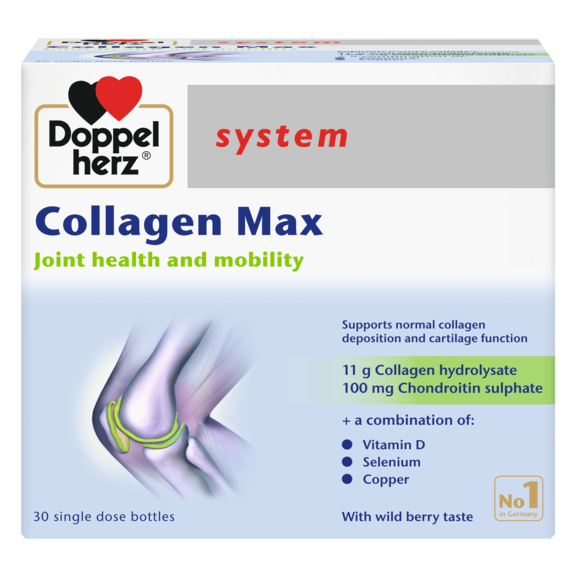 ---
Supports normal collagen deposition and cartilage function

11 g Collagen hydrolysate + 100 mg Chondroitin sulphate + a combination of Vitamin D Selenium & Copper

With wild berry taste
Glutenfree
Lactosefree
---
Our musculoskeletal system is made of different parts (articulations, cartilage, bones, muscles and connective tissues) which have to function perfectly to allow precise, smooth and effortl
A healthy way of life including a balanced diet supplying the different parts of this system with essential nutrients is important to maintain joint comfort and mobility, especially after a certain age.
Collagen Max from Doppelherz contains vitamins and trace elements which contribute to a healthy musculoskeletal system and to efficient cell defenses. It contains in addition 11 g Collagen hydrolysate and 100 mg Chondroitin sulphate which are essential components of the cartilages and of connective tissues.
These nutrients are delivered in a liquid form with pleasant wild berry taste, in convenient single dose bottles that can be carried along anywhere.
Collagen is the main constituent of most connective tissues. Arranged in fibers, it plays a very important role in the function of ligaments, tendons, cartilages and bones. Collagen fibers are very resistant to tension: 10 to 40 kg are necessary to disrupt a collagen fiber of 1 mm diameter!
Copper helps to maintain healthy connective tissues. These structural and supporting tissues keep organs at their dedicated place and are important for the function of the musculoskeletal system.
Selenium contributes to the normal function of the immune system and to the protection of cells against oxidative stress.
Vitamin D is important to keep healthy bones and supports function of the muscles and of the immune system.
Chondroitin is one of the building blocks of the proteoglycans that compose and give the cartilage its strain- and compression-resistant properties.Doppelherz system Collagen Max contains a combination of vitamins and trace elements which contribute to a healthy musculoskeletal system. It helps maintain joint comfort and well-being.
Composition
| Ingredients | per bottle |
| --- | --- |
| Collagen hydrolysate | 11 g |
| Chondroitin sulfate | 100 mg |
| Vitamin D | 6 µg |
| Copper | 300 µg |
| Selenium | 16,5 µg |
Consumption recommendation
Shake well before use! Drink the entire content of one bottle per day. Do not keep opened bottles for later consumption.
Note
Do not exceed the stated recommended daily usage! Food supplements should not be used as a substitute for a varied diet. The product should be kept out of the reach of children. Energetic value: 1 bottle corresponds to 56 kcal/238kJ.
Do not store above 25 °C. Store in a cool dark place.
Ingredients
Water, Collagen hydrolysate, Fructose, Citric acid, Chondroitin sulphate, Ascorbic acid, Potassium sorbate, Flavour, Sodium cyclamate, Acesulfame-K, Sodium saccharin, Cupric sulphate, Sodium selenate, Cholecalciferol (Vitamin D).