Doppelherz aktiv Iron DIRECT
Glutenfree
Lactosefree
Iron DIRECT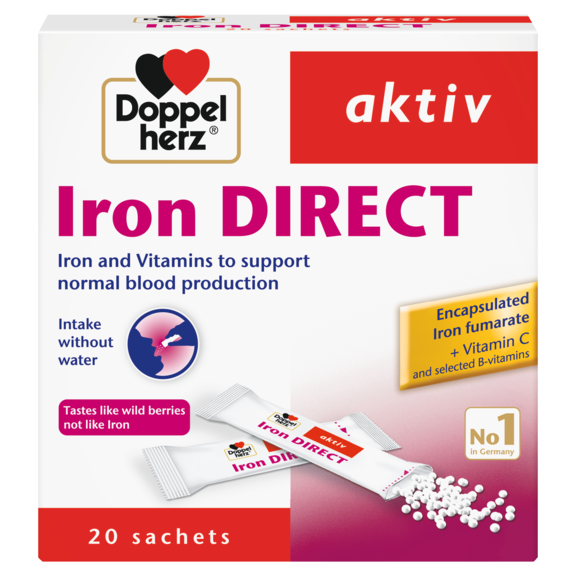 ---
Iron and Vitamins to support normal blood production
Intake without water
Tastes like wild berries not like Iron
Food supplement
Glutenfree
Lactosefree
---
The modern and convenient Doppelherz® DIRECT dosage form is the result of an innovative manufacturing process.
Doppelherz® Iron DIRECT sachets contain nutrients in form of micropellets. Tear one sachet open, pour its content on the tongue and feel how the pellets dissolve within seconds. DIRECT sachets can be taken without any water, everywhere and at any time.
The DIRECT dosage form is convenient to supply the organism in a quick and direct way with Iron, Folic acid, Vitamin B6 and Vitamin B12, especially while on the way or when having problems swallowing tablets.
Proper blood formation requires regular intakes of Iron, Vitamin B6, Vitamin B12 and Folic acid. Iron is especially important because it contributes to the formation of red blood cells as well as to the synthesis and the function of hemoglobin, the vital oxygen-transporting protein. Iron-rich food has to be regularly consumed in order to cover the needs of the organism. Women in the reproductive years, pregnant and breastfeeding women should pay a particular attention to their daily Iron intake.
Vitamins B6, Vitamin B12 and Folic acid are also required for the formation of red blood cells. Both Vitamins B6 and B12 are important for the function of the energy-yielding metabolism. Folic acid helps normal blood production and healthy development of maternal tissues during pregnancy. Vitamin C improves iron absorption, supports function of the immune system and, as antioxidant, participates in cell defenses against oxidative stress.
Composition
| Ingredients | per sachet |
| --- | --- |
| Encapsulated ferrous fumarate blend | 214 mg |
| corresponding to | |
| Iron | 30 mg |
| Folic acid | 200 μg |
| Vitamin B6 | 1,4 mg |
| Vitamin B12 | 2,5 mg |
| Vitamin C | 80 mg |
Consumption recommendation
Take 1 sachet daily. Please tear open the sachet in the direction indicated by the arrow. Pour out the micropellets directly on the tongue, let them dissolve and swallow.
Note
Do not exceed the stated recommended daily dosage! Food supplements should not be used as a substitute for a varied diet. The product should be stored out of the reach of children. Do not take in case of ironoverload disorders. Excessive consumption can have a laxative effect.
Ingredients
Sorbitol, Ferrous fumarate, L-Ascorbic acid (Vitamin C), Citric acid, Pteroylmonoglutamic acid (Folic acid), Flavour, Sucralose, Magnesium salts of fatty acids, Cyanocobalamin (Vitamin B12), Pyridoxine hydrochloride (Vitamin B6).