Ginkgo
+ B-vitamins + Choline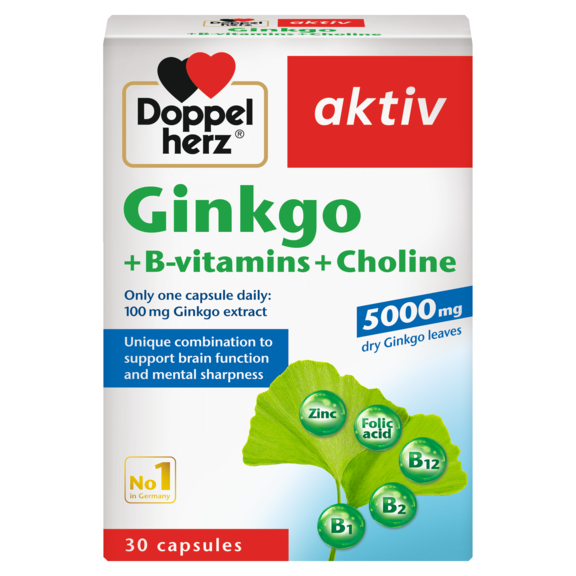 ---
Only one capsule daily: 100 mg Ginkgo extract

5000 mg dry Ginkgo leaves

Unique combination to support brain function and mental sharpness
---
Unique combination to support brain function and mental sharpness
Doppelherz® aktiv Ginkgo + B-vitamins + Choline capsules combine the ancestral power of Ginkgo biloba in form of a modern extract with ingredients that support a healthy cerebrovascular system, which is a prerequisite for normal blood supply to the brain and which contributes to normal oxygen supply to the neurons.
Each capsule of our product contains 100 mg Ginkgo biloba extract obtained from 5000 mg dried Ginkgo leaves and provides the typical association of flavonol glycosides, ginkgolides and bilobalides that makes Ginkgo
so powerful at improving cerebral blood flow and at keeping a clear mind.
B-vitamins play a primordial role in the normal function of the energyyielding metabolism, which the brain relies upon to work at high effciency. Vitamin B12, Pantothenic acid as well as Folic acid contribute to reduce
fatigue which is associated with diminished mental performances.
Choline is needed for the synthesis of the neurotransmitter acetylcholine that is important for a balanced mood and a good memory.
Zinc is a trace-element that is essential for the maintenance of normal cognitive functions.
Daily intake of 1 capsule of Doppelherz aktiv Ginkgo + B-vitamins + Choline is useful to support brain function, memory and mental sharpness.
Composition
| Ingredients | per capsule |
| --- | --- |
| Ginkgo biloba extract | 100 mg |
| Choline | 100 mg |
| Vitamin B1 | 2,1 mg |
| Vitamin B2 | 2,4 mg |
| Pantothenic acid | 6 mg |
| Folic acid | 400 µg |
| Vitamin B12 | 1,5 µg |
| Zinc | 2,5 mg |
Consumption recommendation
Take 1 capsule daily at meal with enough liquid. Do not chew.
Note

Do not exceed the stated recommended daily dosage! Food supplements should not be used as a substitute for a varied diet. The product should be stored out of the reach of children. Not suitable for children and adolescents.
Ingredients
Choline tartrate, Ginkgo biloba leaves extract, Gelatin (bovine), Starch, Microcrystalline cellulose, Calcium-D-pantothenate, Calcium salts of fatty acids, Thiamin mononitrate, Zinc oxide, Silicon dioxide, Riboflavin, Iron oxides and hydroxides, Cyanocobalamin, Pteroylmonoglutamic acid.