Doppelherz aktiv Aktiv Meno
Lactosefree
Glutenfree
Aktiv Meno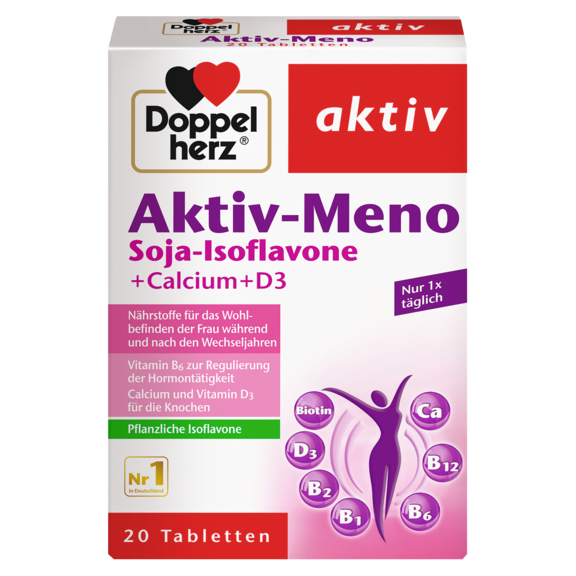 ---
nutrients for the women's well-being during and after meno pause menopause
intake one time daily 
support for the regulation of hormone balance 
Lactosefree
Glutenfree
---
Calcium and Vitamin D3 for normal bones and Vitamin B6 to regulate hormonal activity
Menopause - a natural process of change in the female body!
During the menopause, the woman's own hormone production changes. This is a natural process in the female organism. For many women, changes and side effects occur as a result. A healthy lifestyle, adequate exercise and a balanced diet play an important role in health and well-being during and after the menopause.
Vitamin B6 helps regulate hormonal activity.
Calcium and vitamin D contribute to the maintenance of normal bones.
Vitamin D also contributes to normal calcium absorption.
Vitamins B1, B2, B12 and biotin contribute to normal energy metabolism and the normal functioning of the nervous system.
Biotin supports the maintenance of normal skin and hair and is therefore also known as vitamin H.
Folic acid contributes to normal blood formation and has a role in cell division.
Calcium is a vital mineral that is required for normal bone maintenance. Since calcium can gradually be withdrawn from the body during and after the menopause, calcium should be taken in regularly and sufficiently through food. The tablets from Doppelherz contain 500 mg calcium in a sensible combination with the "calcium installation aid" vitamin D. In addition, the tablets contain 3 mg hyaluronic acid.
Hyaluronic acid is an endogenous substance. It is mainly produced in the fibroblasts and other special connective tissue cells. A large part of hyaluronic acid is found in the skin.
Isoflavones - valuable plant substances:
The consumption of soy has a long tradition in Asia. Soy is a high-quality source of the plant substance isoflavones. Soy products such as tofu or soy milk are rich in valuable isoflavones.
Composition
| Ingredients | per tablet |
| --- | --- |
| Soja isoflavones from soja concentrate | 50 mg |
| Hyaluronic acid | 3 mg |
| Calcium | 500 mg |
| Vitamin D | 5 µg |
| Vitamin B1 | 1,4 mg |
| Vitamin B2 | 1,6 mg |
| Vitamin B6 | 2 mg |
| Vitamin B12 | 3 µg |
| Biotin | 150 µg |
| Folic acid | 400 µg |
Consumption recommendation
Take 1 tablet daily at meal with sufficient liquid. Do not chew.
The tablets can be divided into two halves if necessary.
Note
Do not exceed the stated recommended daily dosage. Food supplements should not be used as a substitute for a varied diet.
The product should be stored out of the reach of children.
Do not store above 25 °C. 
Ingredients
Calcium carbonate, isoflavone-containing soy concentrate, filler gum arabic, filler microcrystalline cellulose, release agent silicon dioxide, filler cellulose, filler cross-linked carboxymethyl cellulose, hyaluronic acid-containing collagen hydrolyzate, coating agent hydroxypropylmethyl cellulose, thickening agent, cyanocarbonate, anti-caking agent, titanium oxychloride, anti-caking agent, titanium oxychloride, anti-caking agent titanium dioxide, olives, antioxidant, titanium oxide chloride, Riboflavin, dye iron oxides and iron hydroxides, emulsifier polysorbate 80, pteroylmonoglutamic acid, D-biotin, cholecalciferol.