Glutenfree
Lactosefree
Vital Eyes Capsule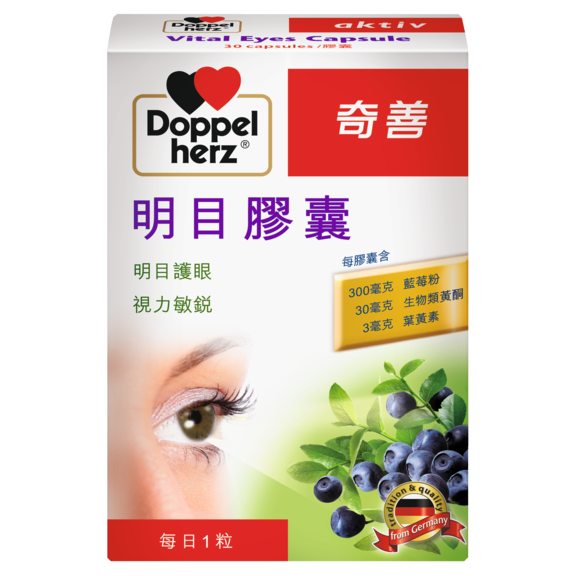 ---
Special vital substance complex for the eyes
with Blueberry powder and Citrus bioflavonoids
Plus Lutein, Zinc, Vitamin A
Glutenfree
Lactosefree
---
Important for eyes and vision
The eye is one of the main organs in the body that is demanded every day: hours spent working on the computer, watching television, looking at a smartphone screen and driving by night are particularly tiring for the eye.
Several factors play a role in maintaining eye health and a sharp eyesight. Among them: a good supply with specific nutrients.
Together with Vitamin A, the trace element Zinc and Lutein, Blueberries and Citrus bioflavonoids play an important role in the eye health and vision capacity.
Special vital substance complex for the eyes – it's the combination.
Vitamin A is involved in vision process and supports the eyes by changing from dark to light. As an essential substance of the pupil, it is essential for bright, dark and color vision.
Zinc regulates the activity of more than 300 enzymes, which are involved in nearly all important reactions of the cells. As an integral part of enzymes the trace element is involved in the utilization of Vitamin A in the vision process.
Lutein can be found in nearly all green vegetables. It belongs to the group of carotinoids, which is a secondary plant substance. If it is taken in in sufficient amounts with the nutrition, Lutein can support the eye and vision function. The "yellow spot" of retina contains a high concentration of Lutein. The "yellow spot" lies in the middle of the eye background and is necessary for a clear vision when reading and differentiating colors. Lutein is necessary for protecting the eye area against the UV radials of sunlight. Together with other nutrients, Lutein can protect the retina and as a consequence the eye of negative environmental impacts.
Blueberries are well known in the human nutrition since centuries. The healthy ingredients are anthocyanes, which are responsible for the vision of blue color. One Doppelherz Eye Vision and Blueberry Plus contains 300 mg Blueberry extract. Anthocyanes act as antioxidants and support the effect of Lutein and the other anti-oxidants like Vitamin A and Zinc
Citrus bioflavonoids improve the microcirculation in the eyeball. Anthocyanidins contained in Blueberries fruits also allow faster adaptation of the eyes to changing lighting conditions, which can result in an improvement of visual acuity, especially during night.
Composition
| Ingredients | per capsule |
| --- | --- |
| Blueberry extract | 300 mg |
| Citrus bioflavonoids | 30 mg |
| Velvet (flower extract) | 20 mg |
| Lutein | 3 mg |
| Zinc | 3 mg |
| Vitamin A | 400 μg |
Consumption recommendation
Take 1 capsules daily with enough liquid. Do not chew. Tablet can be divided into halves.
Note
Do not exceed the stated recommended daily dosage! Food supplements should not be used as a substitute for a varied diet.
The product should be stored out of the reach of young children. Not for children under the age of 12 years.
Do not store above 25 °C.
Ingredients
Blueberry powder, Soybean oil, Gelatin, Water, Citrus bioflavonoids, Glycerol, Sorbitol, Lutein ester, Lecithin, Wax, Iron oxide, Zinc oxide, Retinyl palmitate