Doppelherz aktiv Prostacalm
Lactosefree
Glutenfree
Prostacalm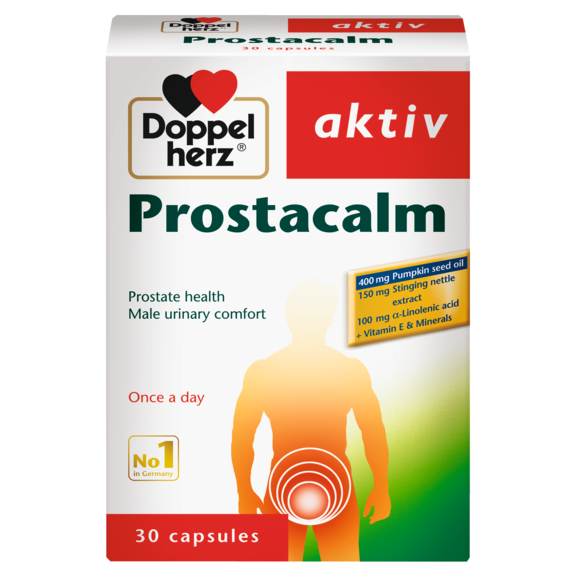 ---
well chosen ingredients that contribute to the normal function of the prostate 
natural combination of natural plant extracts 
especially for men over 50 
Lactosefree
Glutenfree
---
Prostate Health - Male urinary comfort
Benign prostatic hyperplasia (BPH) frequently appears in men over 50.
It is characterized by occurrence of voiding disorders as well as more frequent and urgent need to urinate. BPH forces one to wake up at night several times to urinate, which results in poor sleep quality, daytime sleepiness as well as irritability.
Prostacalm from Doppelherz® aktiv is a combination of natural plant extracts with organic and mineral antioxidants that contribute to the normal function of the prostate and strengthen cellular defenses against free radicals. Pumpkin seeds contain large amounts of essential fatty acids and phytosterols that have a positive action on the prostate, including an increase in void flow and a diminution of post-void residual urine. Due to their high sterol content, Stinging nettle leaves help relieve voiding by increasing maximal void flow. α-Linolenic acid is an omega-3 fatty acid which is known to mitigate inflammatory processes that take place during BPH. Vitamin E is a lipophilic antioxidant that catches and neutralizes free radicals before they are able to damage cell membranes. Zinc, Manganese and Selenium are important minerals or trace elements required for the activity of enzymes that constitute the first line of defense against cell-damaging oxidative stress.
Composition
| Ingredients | per capsule |
| --- | --- |
| Pumpkin seed oil | 400 mg |
| Stinging nettle leaves extract | 150 mg |
| Alpha linolenic acid | 100 mg |
| Vitamin E | 10 mg |
| Zinc | 8 mg |
| Selenium | 50 µg |
| Manganese | 2 mg |
Consumption recommendation
Take 1 capsule daily at meal with enough liquid. Do not chew.
Note
Do not exceed the stated recommended daily dosage! Food supplements should not be used as a substitute for a varied diet. The product should be stored out of the reach of children.
Ingredients
Pumpkin seed oil, Linseed oil, Gelatine, Stinging nettle leaves extract, Glycerol, Sorbitol, Mono- and diglycerides of fatty acids, Soya lecithin, D-alpha- Tocopherol (Vitamin E), Yellow wax, Zinc oxide, Iron oxides, Manganese sulphate, Sodium selenite.