Doppelherz aktiv Omega-3 for Kids
Glutenfree
Lactosefree
Omega-3 for Kids
Vitamin A + D + E + C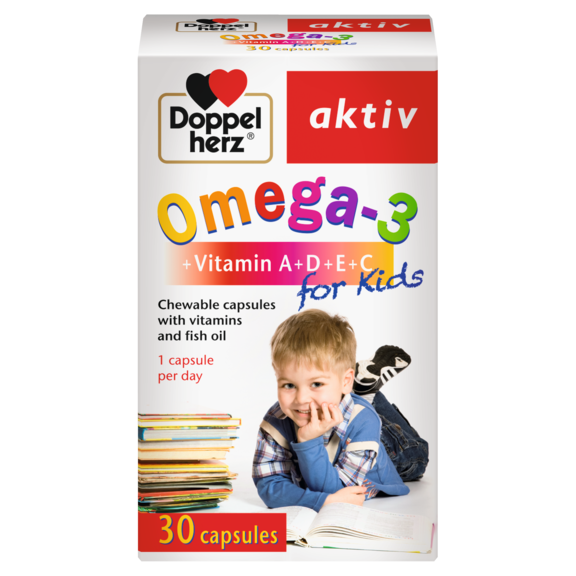 ---
Chewable capsules with vitamins and fish oil
Important for the healthy development of the body
Glutenfree
Lactosefree
---
Chewable capsules with fish oil and vitamin A, D, E and C
The chewable capsules of Doppelherz® aktiv contain essential Omega-3 fatty acids in combination with the vitamins A, D, C and E which are important for the healthy development of the body.
Omega-3 fatty acids important components for the support of the nervous system. Current scientific studies reveal the positives effects on concentration, learning and memory of children by supplementing their diet with unsaturated fatty acids. Based on the studies, the product  Doppelherz® aktiv Omega-3 + Vitamin A + D + E + C for Kids was designed. The chewable capsules with lemon taste contain a balanced number of pure salmon oil, valuable essentials fatty acids DHA and EPA as well as a combination of essential vitamins that are important for the growth and development of children.
Improvment with Omega-3 fatty acids
A lack of concentration, diffulties in learning and attention problems are often observed in the growth of children. The reason could be an insufficient supply of Omega-3 fatty acids determined by unilateral or unbalanced of diet. Eating fish, plant oil and green vegetables, these essentials fatty acids are taken in. A supplementation with Doppelherz® aktiv Omega-3 + Vitamin A + D + E + C for Kids can support the body for the daily intellectual and physical demands, contributes to the normal development of the nervous system of children during growth and imrpove the memory and attention capaity.
A special role during the periods of growth and development play the vitamin A and D, because Vitamin D is important for the bone metabolism including the incorporation of Calcium into the bones and tetths. Vitamin C and E support in the function of the immune system and natural body's defense.
Composition
| Ingredients | per capsule |
| --- | --- |
| Fish oil | 323 mg |
| Vitamin A | 200 µg |
| Vitamin D | 1,25 µg |
| Vitamin E | 2,5 mg |
| Vitamin C | 30 mg |
Consumption recommendation
Take 1 capsules daily at meal with enough liquid. Do not chew.
Note
Do not exceed the stated recommended daily dosage. Food supplements should not be used as a substitute for a varied diet.
The product should be stored out of the reach of children.
Do not store above 25 °C.
Ingredients
Fish oil, mannitol, gelatine, maltitol, starch, glycerol, calcium-L-ascorbate (Vitamin C), soyabean oil, lemon flavour, DL-alpha-tocopheryl acetate (Vitamin E), aspartame, titanium dioxide, acesulfame K, retinyl palmitate (Vitamin A), cholecalciferol (Vitamin D), tocopherol-rich extract