Doppelherz aktiv Mega Brain
Mega Brain
Omega-3 + Ginkgo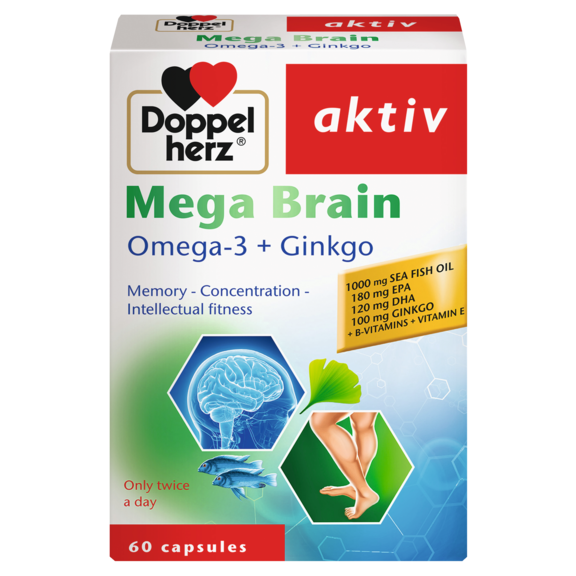 ---
Food supplement
Memory - Concentration - Intellectual fitness
With Ginkgo leaves
---
In our modern times, one has to be permanently alert, efficient and stress resistant, both at work and at home.
To overcome the challenges of everyday life, it is important to remain physically and mentally fit.
This can be achieved by practicing regular physical exercise and by following a healthy and balanced diet, which help to keep the cardiovascular system and the brain in a good shape.
These capsules from Doppelherz® aktiv contain a unique combination of the omega-3 fatty acids EPA and DHA, ginkgo leaves extract, B-vitamins and vitamin E.
The omega-3 fatty acids EPA and DHA are involved in the correct function of the heart and of the brain. Regular intake of these fatty acids contributes to maintain cardiovascular system health as well as brain performances.
Ginkgo leaves have long been considered in Asia as a mental stimulant. This is likely because ginkgo contains secondary metabolites that act on the vascular system to stimulate peripheral blood flow. Proper irrigation of the brain with oxygen-rich blood is a key determinant to keep good learning and cognitive abilities.
Vitamins B1, B12, niacin and pantothenic acid are required for the proper function of the nervous system. Intake of these B-vitamins is therefore important to maintain vigorous brain activity.
Vitamin E helps protect cell membranes from oxidative assaults and thereby contributes to the normal function of nerve and muscle cells.
Daily intake of two Mega Brain capsules from Doppelherz® aktiv provides nutrients, which are helpful to remain physically healthy and mentally alert.
Composition
| Ingredients | per capsule |
| --- | --- |
| Sea fish oil | 1000 mg |
| Eicosapentaenoic acid (EPA) | 180 mg |
| Docosahexaenoic acid (DHA) | 120 mg |
| Gingko leaves extract | 100 mg |
| Vitamin B1 | 1,1 mg |
| Niacin | 16 mg |
| Pantothenic acid | 9 mg NE |
| Vitamin B12 | 2,5 μg |
| Vitamin E | 12 mg alpha-TE |
Consumption recommendation
Take 2 capsules daily at meal with water. Do not chew.
Note
Do not exceed the stated recommended daily dosage! Food supplements should not be used as a substitute for a varied diet. The product should be stored out of the reach of children.
Ingredients
500 mg sea fish oil (90 mg eicosapentaenoic acid, 60 mg docosahexaenoic acid), 50 mg Ginkgo leaves extract, 0.55 mg vitamin B1, 8 mg niacin (NE), 4.5 mg pantothenic acid, 1.25 μg vitamin B12, 6 mg DL-alpha-tocopheryl acetate.