Doppelherz aktiv Kinder Immun Family
Lactosefree
Glutenfree
Kinder Immun Family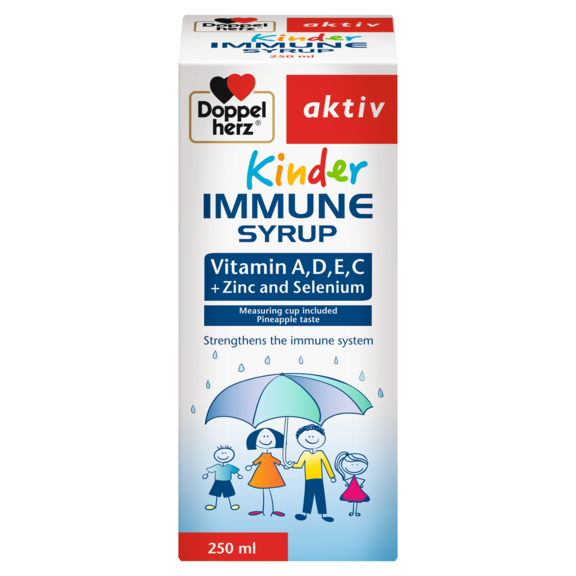 ---
Essential nutrients for the natural defenses of the body to work properly
Vitamin A, C and D for contributing to normal function of the immune system
Vitamin E, Zinc and Selenium as a part of cell protection against oxidative stress
Lactosefree
Glutenfree
---
Strengthens the immune system
Immune Syrup from Doppelherz® aktiv contains nutrients that are essential for the natural defenses of the body to work properly.
It brings Vitamins A, C and D which contribute to normal function of the immune system, as well as Vitamin E, Zinc and Selenium which are involved in the protection of cells against oxidative stress. Daily intake of Immune Syrup from Doppelherz® aktiv helps strengthen the immune system in order to stay healthy or to speed up recovery during the cold/wet season. It is also helpful during periods of sustained growth or in times of increased strain or tiredness.
Composition
| Ingredients | per ml | per 5 ml |
| --- | --- | --- |
| Vitamin A | 60 µg | 300 µg |
| Vitamin D3 | 1 µg | 5 µg |
| Vitamin E | 2,4 mg | 12 mg |
| Vitamin C | 30 mg | 150 mg |
| Zinc | 1 mg | 5 mg |
| Selenium | 1,65 µg | 8,25 µg |
Consumption recommendation
Children 1-3 years: 5 ml per day
Children above 3 years: 10 ml per day
Note
Do not exceed the stated recommended daily dosage! Food supplements should not be used as a substitute for a varied diet. The product should be stored out of the reach of children. Do not store above 25 °C. After opening store in the refrigerator and consume within 1 month. Shake well before use!
Ingredients
Water, Sucrose, Pineapple powder, Sodium-L-ascorbate (Vitamin C), L-ascorbic acid (Vitamin C), Flavouring, Zinc gluconate, Xanthan gum, DL-alpha-tocopheryl acetate (Vitamin E), Potassium sorbate, Sodium benzoate, Retinyl palmitate (Vitamin A), Carotenes, Sodium selenate, Cholecalciferol (Vitamin D3).