Lactosefree
Glutenfree
Lacta+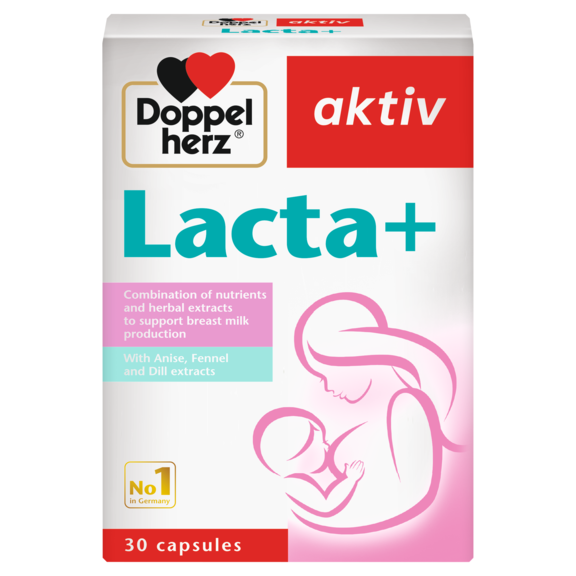 ---
Combination of nutrients and herbal extracts to support breast milk production

With Anise, Fennel and Dill extracts

No. 1 in Germany
Lactosefree
Glutenfree
---
Combination of nutrients and herbal extracts to support breast milk produtcion
Breastfeeding of a newborn is not only about supplying essential nutrients to enable growth and development. Through hormonal and sensory signals and by conveying warmth and love, breastfeeding also plays an important role in infants' affective and cognitive development in the early years of life.
The World Health Organization recommends exclusive breastfeeding for the first six months of life, in order to provide newborns with nutrients, vitamins, minerals, trace elements and immune support that are essential for healthy growth and development.

However many women face issues with breastfeeding, such as low milk supply, that hinder them to follow this recommendation.
In order to support a normal breast milk production, we developed Doppelherz® aktiv Lacta+ that associates herbal extracts of Anise, Dill and Fennel, with essential nutrients that improve milk nutritional quality while preventing exhaustion of mother's nutrients reserves.
The amounts of Calcium, Iron, Iodine, Vitamin D3 and B-Vitamins that are essential for the infant in breast milk are indeed directly influenced by the mother's diet.
Fennel is an aromatic herb that has been traditionally used by European women to stimulate their lactation. Due to this action it is referred to as "galactologue". Anise and Dill are also appreciated by breastfeeding women.
In addition to supplying extra nutrients, the intake of Doppelherz® aktiv Lacta+ will support proper hydration which is necessary to sustain normal production of breast milk.
Composition
| Ingredients | per 2 capsules |
| --- | --- |
| Calcium | 300 mg |
| Arnisseedextract | 100 mg |
| Star fern seed extract | 50 mg |
| Fennel extract | 50 mg |
| Niacin | 16 mg |
| Iron | 8 mg |
| Vitamin B5 | 6 mg |
| Vitamin B1 | 1,4 mg |
| Vitamin B2 | 1,4 mg |
| Vitamin B6 | 1,4 mg |
| Iodine | 100 µg |
| Biotin | 100 µg |
| Vitamin D3 | 10 µg (=400 IU) |
Consumption recommendation
Take 1 capsule in the morning and 1 capsule in the evening at meal with enough liquid. Do not chew.
Note
Do not exceed the stated recommended daily dosage!
Food supplements should not be used as a substitute for a varied diet.
The product should be stored out of the reach of children. Not suitable for children and adolescents.
Ingredients
50 mg Fennel seed extract, 25 mg Anise seed extract, 25 mg Dill herb extract, 150 mg Calcium, 4 mg Iron, 50 µg Iodine, 0.7 mg Vitamin B1, 0.7 mg Vitamin B2, 0.7 mg Vitamin B6, 3 mg Pantothenic acid, 8 mg Niacin, 50 µg Biotin, 5 µg Vitamin D3