Doppelherz aktiv Joints ULTRA
Glutenfree
Lactosefree
Joints ULTRA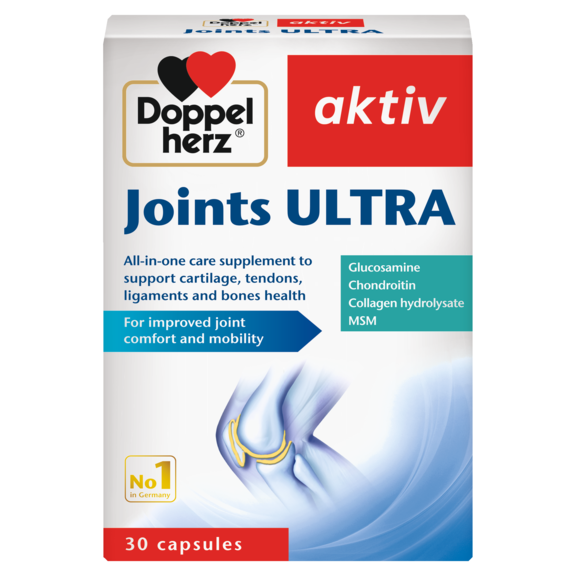 ---
All-in-one care supplement to support cartilage, tendons, ligaments and bones health

Glucosamine, Chondroitin, Collagen hydrolysate and MSM

For impoved joint comfort and mobility
Glutenfree
Lactosefree
---
Maintaining health of the musculoskeletal system is important to preserve mobility and a good life quality at any age.
Healthy cartilages are essential for joint comfort and mobility.
Doppelherz aktiv Joints ULTRA is an all-in-one care supplement that supports cartilages, tendons, ligaments and bones health, by providing nutrients that help strengthen their structure and function.
Glucosamine and Chondroitin are building blocks used in the synthesis and the maintenance of the cartilage. Intake of glucosamine and chondroitin on the long term is associated with better joint comfort. Collagen is also an important constituent of the cartilage. Hyaluronic acid has the capacity to hydrate and bind water in the joint space, which helps cartilages glide upon each other without friction. Methylsulfonylmethane (MSM) is a naturally occurring sulfur containing compound that is widely used to address joint issues.
Doppelherz aktiv Joints ULTRA also contains nutrients that are essential for collagen production (Vitamin C), muscle function (Vitamin D3) and bone health (Vitamins D3 and K), which help to maintain joint health, comfort and an active lifestyle in the long term.
Composition
| Ingredients | per capsule |
| --- | --- |
| Glucosamine sulphate potassium chloride | 750 mg |
| Chondroitin sulfate | 40 mg |
| Collagen hydrolysate | 100 mg |
| MSM | 50 mg |
| Hyaluronic acid | 7,5 mg |
| Vitamin C | 40 mg |
| Vitamin K1 | 20 µg |
| Vitamin D3 | 5 µg |
Consumption recommendation
Take 1 to 2 capsules daily at meal with enough liquid. Do not chew.
Note
Do not exceed the stated recommended daily dosage! Food supplements should not be used as a substitute for a varied diet. The product should be stored out of the reach of children
Ingredients
Glucosamine sulfate potassium chloride (derived from components of shrimps), Gelatin (bovine), Collagen hydrolysate (bovine), L-ascorbic acid, Methylsulfonylmethane (MSM), Chondroitin sulfate sodium (bovine), Magnesium salts of fatty acids, Sodium hyaluronate, Phytomenadione, Cholecalciferol, Iron oxides and hydroxides.