Doppelherz aktiv Active Breath
Lactosefree
Active Breath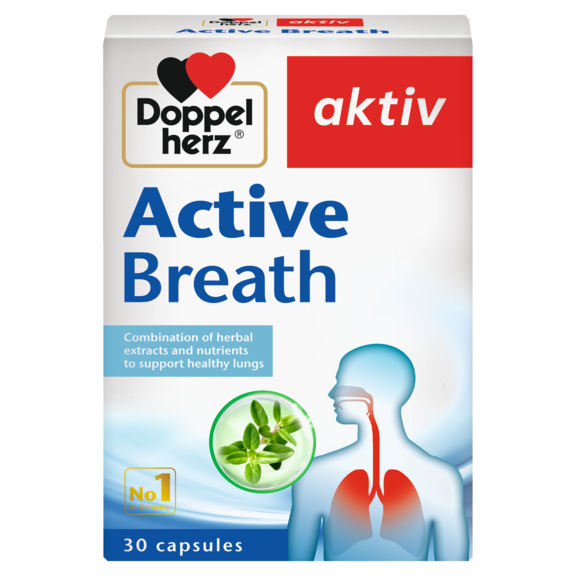 ---
Combination of herbal extracts and nutrients to support healthy lungs

No. 1 in Germany

Only once a day
Lactosefree
---
The lungs are the primary organs of our respiratory system that allow us breathing.
Pollutants, chemicals, soot and dusts that are inhaled as fine particles and partly stay entrapped in the lungs may affect their function. Accumulation of such substances in the lungs may indeed impede on normal gas exchanges required for proper blood oxygenation.
Thanks to its combination of nutrients and herbal extracts, our Doppelherz® Active Breath formulation has a triple positive influence on lung health:
It facilitates the expectoration of foreign bodies by fluidifying bronchial secretions thanks to Thyme extract. Thyme has been traditionally used in Europe as an expectorant. This property relies on its stimulating effect on mucociliary clearance, which is an innate defense mechanism that removes inhaled particles and pathogens from the airways.
It supports normal function of lungs epithelial cells (Pine bark extract and Zinc) and their renewal (Vitamins B6 and B12). When lung tissue is damaged, it has the capacity to regenerate to a certain extent, without scaring or fibrosis. However, this process depends on a proper supply with specific nutrients, like Zinc that is important to maintain the barrier function of the epithelium.
It helps reduce oxidative stress in the lung tissues: Citrus bioflavonoids, Vitamin C, Vitamin E and Zinc all contribute to increase antioxidant defenses, which are important to keep damages due to oxidative processes at low levels.
Regular intake of Doppelherz® Active Breath capsules is especially recommended to people living in urban areas with high levels of pollution, to those who often have chest congestion as well as to smokers.
Consumption recommendation
Take 1 capsule per day at meal with enough liquid.
Note
Do not exceed the stated recommended daily dosage! Food supplements should not be used as a substitute for a varied diet. The product should be stored out of the reach of children.
The product is not suitable for children, adolescents, pregnant and lactating women.
Do not store above 25 °C.