Doppelherz aktiv Calciovin
Glutenfree
Lactosefree
Calciovin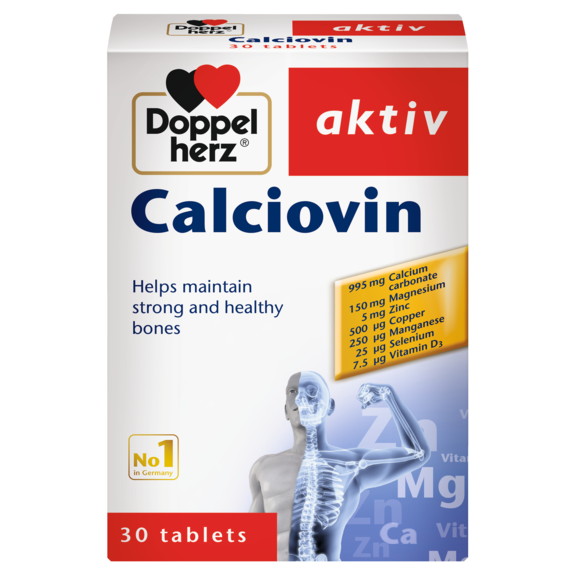 ---
To maintain bones and teeth health
Essential nutrients for the formation of osseous tissue
Balanced formula for everyday use
Glutenfree
Lactosefree
---
Helps maintain strong and healthy bones
The unique combination of minerals, trace elements and Vitamin D3 in Doppelherz® aktiv Calciovin tablets is ideal to support the proper constitution and the maintenance of bones and teeth.
Additionally, regular intake of Calciovin tablets contributes to proper  heart, muscles and nerves function.
Calcium is well-known for its role in maintaining strong bones and teeth. It also plays a role in blood coagulation and in muscle function.
Magnesium is also required to strengthen the structure and to sustain mineralization of bones. Magnesium additionally contributes to the proper function of the energy-yielding metabolism and supports normal nerve and muscle functions.
Zinc is a cofactor required in many cellular processes, such as the synthesis of osseous tissue by specialized cells.
Vitamin D3 is important for bone health because it facilitates calcium uptake from the intestine and promotes its incorporation into the bones.
Copper is needed for the synthesis of collagen, one of the main components of connective tissues, which builds the frame on which bone minerals are deposited.
Manganese and Selenium both support bone health and help protect bone-synthesizing cells from oxidation.
Composition
| Ingredients | per tablet |
| --- | --- |
| Calcium | 400 mg |
| Magnesium | 150 mg |
| Zinc | 5 mg |
| Copper | 500 µg |
| Manganese | 250 µg |
| Selenium | 25 µg |
| Vitamin D3 | 7,5 µg |
Consumption recommendation
Take 1-2 tablets daily at meal with enough liquid. Do not chew.
Note
Do not exceed the stated recommended daily dosage! Food supplements should not be used as a substitute for a varied diet.
The product should be stored out of the reach of children.
Do not store above 25 °C.
Ingredients
Calcium carbonate, Cellulose, Magnesium oxide, Polyvinylpyrrolidone, Fatty acids, Cross-linked sodium carboxy methyl cellulose, Hydroxypropyl methyl cellulose, Zinc sulphate, Talc, Magnesium salts of fatty acids, Cholecalciferol (Vitamin D3), Titanium dioxide, Hydroxypropyl cellulose, Cupric sulphate,Fatty acids, Coconut oil, Manganese sulphate, Sodium selenite