Lactosefree
Glutenfree
Belle Anti-Aging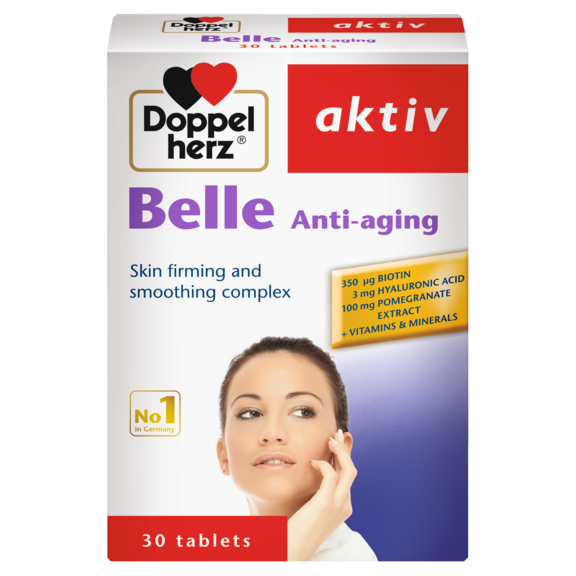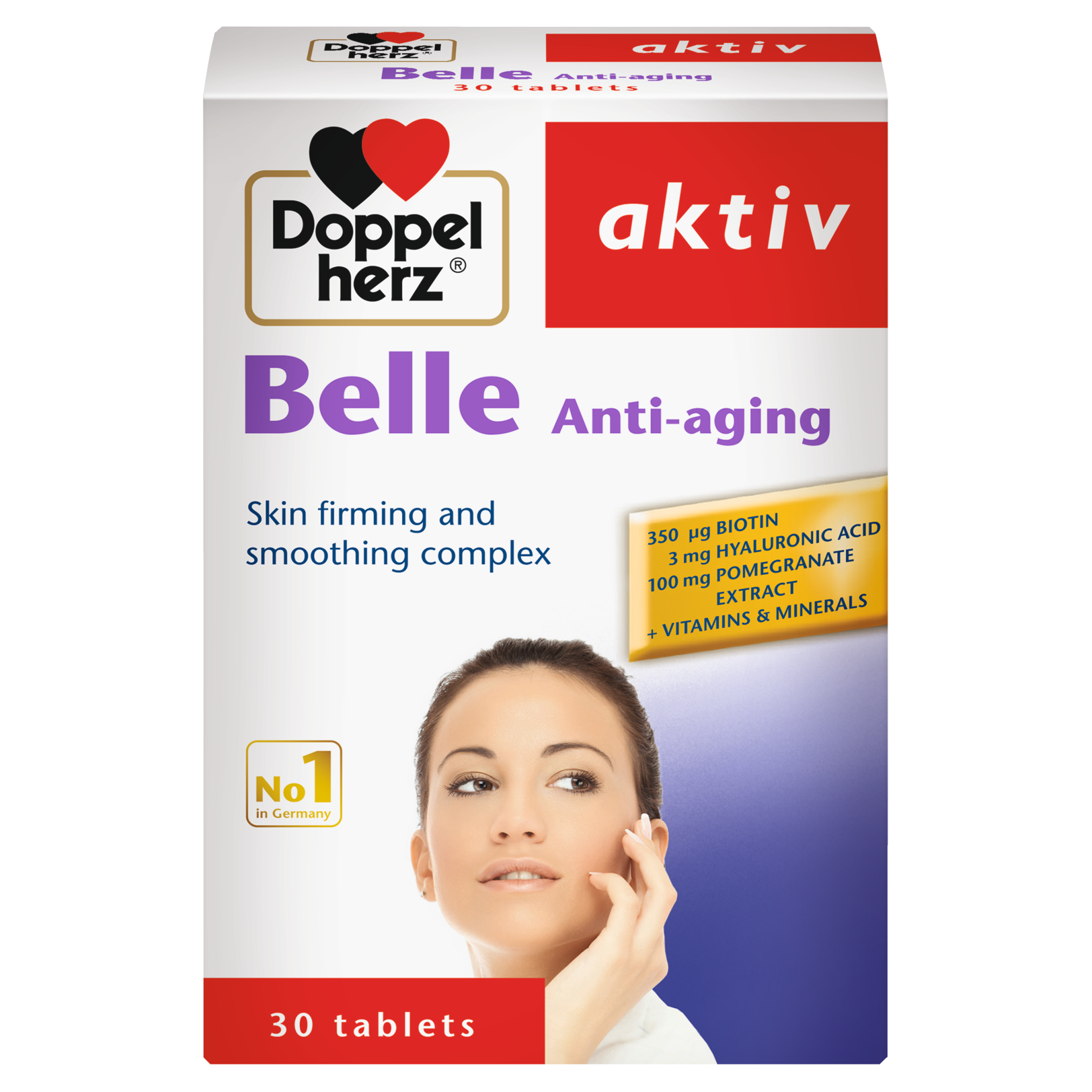 ---
Important nutrients to nourish skin, hair and nails
Antioxidants to fight free radicals
With 3 mg hyaluronic acid and 100 mg pomegranate extract
Lactosefree
Glutenfree
---
Skin firming and smoothing complex
To keep a firm, smooth and young-looking skin is the wish of every woman.
While aging, cracks and wrinkles appear because of changes in the composition and structure of the connective tissue. These changes are faster when skin tissues are exposed to oxidants such as free radicals which cause premature aging.
Belle Anti-aging from Doppelherz® aktiv was formulated to provide the skin with antioxidants and nutrients that maintain skin healthy, reinforce its natural defenses against free radicals and keep the connective tissue firm and elastic.
Hyaluronic acid is a substance made by specialized cells of the connective tissues and deposited in the dermis, where it binds large amounts of water and therefore helps maintain optimal skin moisture.
Collagen and elastin are two key-components of the connective tissue, providing skin tensile strength and elasticity. Both Vitamin C and Copper are essential cofactors of collagen and elastin synthesis. Vitamin A also stimulates the production of collagen.
Siliceous earth is a naturally occuring substance containing Silica which is an important compound for the maintenance of skin resilience.
With the help of Vitamin C, the powerful antioxidant Vitamin E plays a central role in delaying aging of the cell membranes. Pomegranate contains polyphenols and anthocyanins with high antioxidant power.
Biotin is a vitamin essential to maintain healthy skin, hair and nails.
It is required for the synthesis of keratin, one of the main constituents of the epidermis.
Other vitamins of the B-group such as Vitamin B1, B2, B6, B12, Niacin, Folic acid and Pantothenic acid, as well as Magnesium and Zinc are important on the one hand to provide the energy and on the other hand to allow cellular processes necessary for efficient cell renewal.
Composition
| Ingredients | per tablet |
| --- | --- |
| Siliceous earth | 50 mg |
| Hyaluronic acid | 3 mg |
| Pomegranate extract | 100 mg |
| Vitamin A | 400 µg RE |
| Vitamin E | 12 mg α-TE |
| Vitamin C | 60 mg |
| Vitamin B1 | 1,1 mg |
| Vitamin B2 | 1,4 mg |
| Niacin | 18 mg NE |
| Vitamin B6 | 1,4 mg |
| Folic acid | 400 µg |
| Vitamin B12 | 2,5 µg |
| Biotin | 350 µg |
| Pantothenic acid | 9 mg |
| Magnesium | 60 mg |
| Zinc | 5 mg |
| Copper | 300 µg |
Consumption recommendation
Take 1 tablets daily at meal with enough liquid. Do not chew.
Note
Do not exceed the stated recommended daily dosage. Food supplements should not be used as a substitute for a varied diet.
The product should be stored out of the reach of children.
Ingredients
Cellulose microcrystalline, Magnesium oxide, Pomegranate extract, Ascorbic acid, Siliceous earth, Alpha-Tocopherol acetate, Collagen hydrolysate, Nicotinamide, Hypromellose, Calcium-D-pantothenate, Croscarmellose sodium, Zinc oxide, Titanium dioxide, Silica, Talc, Vitamin A dry concentrate, Cyanocobalmin, Pyridoxine hydrochloride, Magnesium stearate, Riboflavin, Thiamine nitrate, Hydroxypropyl cellulose, Triglycerides, Copper sulphate, Folic acid, Biotin, Iron oxide yellow, Iron oxide red
Reviews
No ratings have been submitted yet. Submit your first review here.