Doppelherz aktiv Anti Stress
Lactosefree
Glutenfree
Anti Stress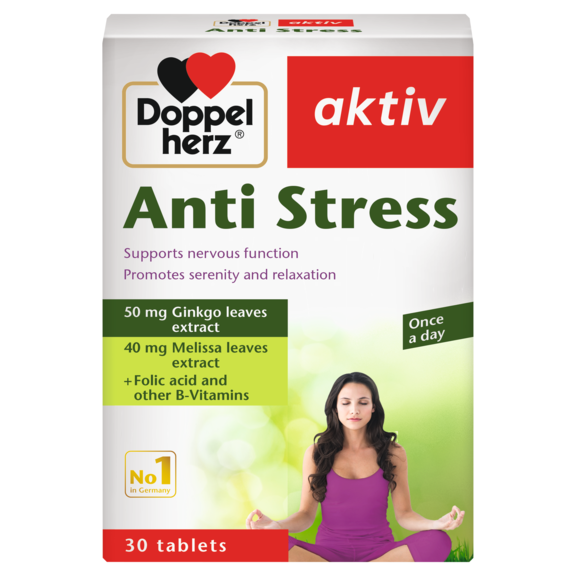 ---
Supports nervous function, promotes serenity and relaxation

50 mg Ginkgo extract, 40 mg Melissa extract

Once a day

No. 1 in Germany
Lactosefree
Glutenfree
---
Supports nervous function, promotes serenity and relaxation
It belongs to today's standards to be permanently alert intellectually, whether at school or at work. Mental agility is ensured only when brain and nerves are supplied with enough micronutrients to support their proper functioning. Among these nutrients, B-Vitamins are of prime importance because they play a central role in the energy-yielding metabolism.
One tablet Anti Stress from Doppelherz daily provides folic acid and other B-vitamins required for sustained energy production to fuel the brain and for correct function of the neurons.
In addition, pantothenic acid is required for normal mental functions. Vitamins B6, B12 and folic acid contribute to reduce homocysteine levels and therefore positively act on the cerebrovascular system. The three vitamins also contribute to normal red cell formation and hemoglobin synthesis, which is primordial to ensure proper oxygen supply to the brain.
Anti Stress tablets from Doppelherz also contain leaf extracts of Melissa and Ginkgo which are two herbs with longstanding traditional use: Melissa helps relieve anxiety and nervousness and has a positive effect on the digestive system which may be sensitive to stress in certain persons. Ginkgo is in Asia a symbol of vitality and mental strength. It helps to stay concentrated and alert.
Daily intake of Anti-Stress from Doppelherz helps to stay focused mentally, while calming down and building more resistance towards everyday stress.
Its formulation is particularly well-adapted to persons who feel the negative effects of stress in their professional or private life, during studies or all these situations that are nervously challenging.
Composition
| Ingredients | per tablet |
| --- | --- |
| Ginkgo | 50 mg |
| Melissa leaf extract | 40 mg |
| Vitamin B1 | 1,1 mg |
| Vitamin B2 | 1,4 mg |
| Vitamin B6 | 1,4 mg |
| Vitamin B12 | 2,5 mg |
| Niacin | 16 mg |
| Pantothenic acid | 6 mg |
| Folic acid | 200 µg |
| Biotin | 50 µg |
Consumption recommendation
Take 1 tablet daily at meal with enough liquid. Do not chew.
Note
Do not exceed the stated recommended daily dosage! Food supplements should not be used as a substitute for a varied diet. The product should be stored out of the reach of children. This product is not suitable for pregnant or lactating women. People taking bloodthinning medication, especially coumarin-derivatives, should seek medical advice before taking this product. Gingko may interact with drugs that are processed by the liver.
Ingredients
Dicalcium phosphate, Microcrystalline Cellulose, Ginkgo leaves extract 13.3 %, Melissa leaves extract 10.7 %, Nicotinamide, Silicon dioxide, Calcium-D-pantothenate, Cross-linked sodium carboxy methyl cellulose, Magnesium salts of fatty acids, Hydroxypropyl methyl cellulose, Cellulose powder, Titanium dioxide, Shellac, Pyridoxin hydrochloride, Riboflavin, Thiamin mononitrate, Talc, Olive oil, Pteroylmonoglutamic acid, Polysorbate 80, Riboflavin, Copper complexes of chlorophylls and chlorophyllins, D-biotin, Cyanocobalamin.