In developing our innovative Doppelherz for Animals products, we have faced the following challenge: Although there are already special dietary foods for dogs and cats, administration is often a problem. These are often pellets, powders, tablets or capsules. Especially with cats, but also with picky dogs, the administration of the important supplements can thus be difficult or even completely refused.
We have therefore combined the advantages of a tasty treat with the important ingredients of an effective dietary feed. This makes supporting joint and skin function a joyful experience for both pet and owner. This is also confirmed by the evaluation of our feeding studies, in which over 100 dogs and cats tried our products and found them particularly tasty. This quality feature, known in the trade as high acceptance, not only makes dogs and cats happy, but is also important for the effectiveness of the dietary foods used in conjunction with therapy, as this is the only way to ensure regular and sufficient intake of the important ingredients.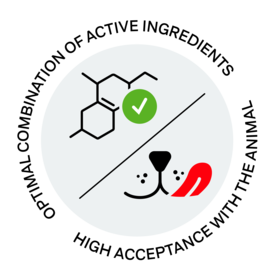 Scientifically sound composition
Nevertheless, the products should not be confused with a snack for in between. Our products are special dietary foods that contain high doses of active ingredients to support joint and skin function We have placed great emphasis on scientific findings when selecting our raw materials. There are numerous studies on the effects of the ingredients on dogs and cats, the evaluation of which has led to the current combinations in Doppelherz products.
The supply of essential fatty acids plays an important role here. By selecting high-quality oils such as salmon oil, linseed oil, hemp seed oil, evening primrose oil and borage oil, we can provide an optimal supplementation with important fatty acids depending on the indication.
Our products are then supplemented by a combination of sensible and highly dosed active ingredients that are optimally suited to the respective indication from a scientific point of view. The combination of the most important ingredients in just one product makes the care of dogs and cats much easier. In addition to the oils mentioned above, the well-known green-lipped mussel, the cartilage building blocks collagen II, chondroitin and glucosamine, devil's claw, Indian frankincense (Boswellia serrata) and rosehip as herbal support as well as vitamin E, manganese and methionine are used to support joint function. To support the skin function, we have selected brewer's yeast, biotin, turmeric, the trace elements zinc and copper as well as vitamins A, Band E for our products.
Further information on the individual components can be found here.
Doppelherz offers different dietary foods for dogs and cats, each to support the joints and skin & fur.
We have developed tasty Chews especially for dogs. These are semi-moist pieces of food with a high meat content and a strong aroma. The gentle preparation preserves the important active ingredients. The Chews can be given like a "treat", but with their scientifically sophisticated composition they offer optimal dietary support for your dog.
Cats are usually particularly picky and a good taste is especially important here. We have therefore created a particularly attractive form of delivery as a paste to make it as easy as possible to supply the important nutrients. Due to the high-dose recipe, 1 lick daily is sufficient for an optimal supply.
Our omega oils in particular are an innovation on the supplement feed market. These are oil mixtures that have been specially selected for the respective indication, in combination with high doses of active components as a solid component. They are also diet feeds with specific support for joints or skin & coat. Here you supply your pet exclusively with pure components. The good taste comes from the high content of salmon oil, which both dogs and cats like very much. There are no other additives such as sugar, artificial flavours or preservatives. The oil mixtures are therefore also wonderfully suitable for supplementing BARF rations.
We have developed scientifically based recipes for different needs, which are easy and, thanks to the good taste, also enjoyable to administer. This makes healthy nutrition fun.