Doppelherz system KOLLAGEN 11.000
Lactosefree
Glutenfree
KOLLAGEN 11.000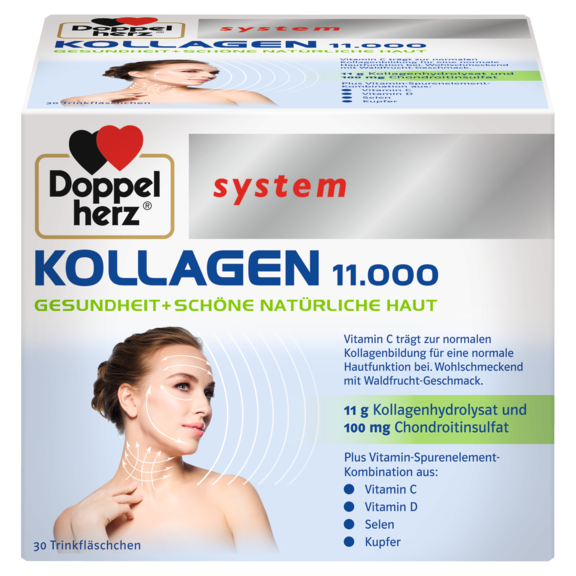 ---
30 single dose bottles
Combined selen, copper and vitamins
With delicious wild berries taste
Lactosefree
Glutenfree
---
Doppelherz system KOLLAGEN 11.000 contains a combination of selected nutrients for naturally beautiful skin.
Collagen is an important component of the connective tissue.
Vitamin E contributes to protect skin cells from oxidative stress.
Vitamin C required for the endogenous synthesis of collagen.
Selenium helps maintain normal nails and hair, as well as to the protection of the cells from oxidative stress.
Copper plays an essential role in maintaing normal skin pigmentation and normal connective tissues.
Vitamin D contributes to normal cell division.
Composition
| Ingredients | per bottle |
| --- | --- |
| Collagen hydrolysate | 11 g |
| Vitamin C | 60 mg |
| Vitamin D | 5 µg |
| Vitamin E | 3 mg α-TE |
| Copper | 300 µg |
| Selenium | 16,5 µg |
Consumption recommendation
Drink the entire content of one bottle per day. Shake well before use! Do not keep opend bottles for later consumption.
Note
Do not exceed the stated recommended daily usage! Food supplements should not be used as a substitue for a varied diet. The product should be kept out of the reach of children.
Do not store above 25°C.
Ingredients
Water, collagen hydrolysate, fructose, acidifier citric acid, L-ascorbic acid, preservative potassium sorbate, flavour, sweetener sodium cyclamate, acesulfame-K and sodium saccharin, DL-α-tocopheryl acetate, copper sulphate, sodium selenate, cholecalciferol.
Zarina
reviewed 20.10.2022