Doppelherz aktiv Augenvitamine für Kinder
Lactosefree
Glutenfree
Augenvitamine für Kinder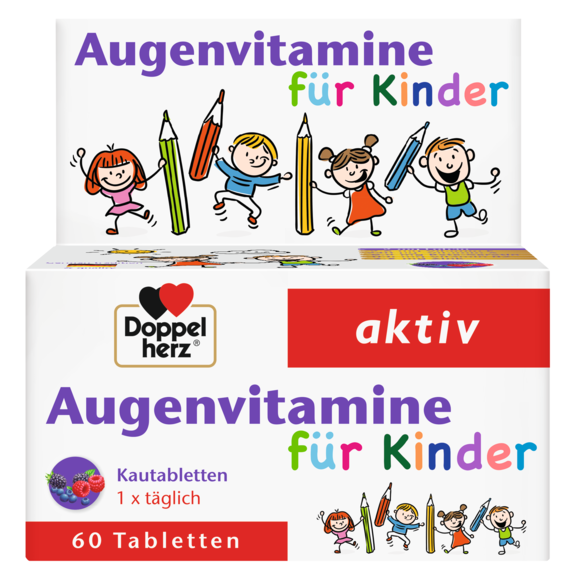 ---
Helps maintain eyes and vision healthy
Rich in vitamins, trace elements and lutein
For children above the age of 3 year
Lactosefree
Glutenfree
---
Nutrients that contribute to the maintance of a good vision
The eye is an important organ and needs a good supply of nutrients to maintain visual function.
Vitamin A helps maintain normal vision day and night. Zinc also contributes to vision and supports normal vitamin A metabolism. Vitamin E protects the cells from oxidative stress.
Lutein is found in plant foods (e.g. fruit and vegetables). Blueberries naturally contain many antioxidants that protect against free radicals. A particularly high amount of lutein is found in a part of the eye called the "yellow spot".
Vitamin B2 contributes to the maintenance of normal vision and supports the maintenance of mucous membranes like vitamin A.
Vitamin A and vitamin B2 contribute to maintaining vision.
Composition
| Ingredients | per tablet |
| --- | --- |
| Vitamin A | 240 µg RE |
| Beta-Carotin | 0,9 mg*** |
| Vitamin E | 2,6 mg α-TE |
| Vitamin B2 | 0,6 mg |
| Zinc | 3,5 mg |
| Lutein | 2 mg |
| Blueberry powder | 30 mg |
Consumption recommendation
3-7 year old children take 1 tablet 1 time daily
8-16 year old children take 1 tablet 2 times a day
Note
Do not exceed the recommended daily dosage. Food supplements should not be used as a substitute for a varied diet.
The product should be stored out of the reach of children.

Do not store above 25°C.
Ingredients
Dextrose, sugar, blueberry powder, flavouring, zinc gluconate, lutein, citric acid, beta-carotene, DL-alpha-tocopheryl acetate, separating agent magnesium salts of fatty acids, retinyl acetate, riboflavin, maltodextrin.